Governor Yahaya Bello's Thuggery Against Dangote Cement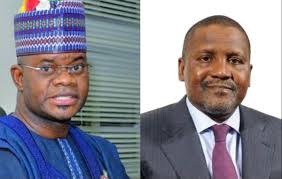 Ali Abubakar Sadiq
Before i delved into the issue proper, we need first to understand how Governor Yahaya Bello's mental furniture is arranged. I believe no one will disagree me that as much as his youthful vigor and exuberance, he exhibit equal energy in clamoring over controversies. He is a governor that can publicly flaunt his disregard for the law, considering he was once reported to have register twice with INEC and we all know double registration is against the law.
But to me his greatest absurdity was at its height during the Corona Pandemic when on June 30, 2020, he alleged that COVID-19 is an artificial creation aimed at causing fear and panic among people. And he went ahead to rejected N1.1bn support fund from the World Bank because of his belief that COVID-19 is a "glorified malaria".
In defense of his view he told the world "I rejected the World Bank fund because I do not believe in COVID-19. Even the five cases reported in Kogi State is an NCDC creation" He also condemned the use of the vaccine, saying it is meant to kill people.
A statement even his comrades-at-arms, at the Nigeria Governors Forum quickly dissociated itself from. His other shortcomings, like most politicians, is he's surrounded by sycophants that chose only to tell him what he wishes to hear.
Breaking: ASUU Suspends 8 Month Strike
During the recent Obajana furore, Dr. (Mrs) Folashade Ayoade, the Secretary to the Kogi State Government and Chair of the Technical committee that was saddled with the responsibility to evaluate "The Legality of the Alleged Acquisition of Obajana Cement Company Plc by Dangote Cement Company Limited" said "The claimed transfer of Obajana to Dangote Industries Limited was "invalid, null and void."  And goes on to contradict herself by saying "Kogi State Government should take steps to cancel the EXISTING seven Certificates of Occupancy in the name of Dangote Cement Company." While also acknowledging that "Agreement between Kogi State Government of Nigeria and Dangote Industries Limited, dated 30th July 2002 and supplemental agreement dated 14th February 2003…are all invalid, null and void" and also added "All the transfer process of the share capital to Dangote from Obajana by the previous administration was without any law backing it by the state House of Assembly,"
In any society led by sensible leadership, dispute resolution always follow sane and legal channel and as enshrined in the MOU between Dangote and Kogi State, a clause called for arbitration in case of any dispute. Whenever dispute arbitration failed, there is always an alternative route through legal redress. But Kogi State government under Yahaya Bello prefer to use thuggery and intimidation against the company instead of rule of law.
To go down memory lane, beginning with a prayer to the departed soul of two-time governor of Kogi state, Prince Abubakar Audu, whose legacy led to the rise of Obajana Cement Company as one of the largest cement company not only in Nigeria but the African continent.The company was a brainchild of Abubakar Audu conceived during his first tenure in 1992. His dream was to make Obajana a household name in the world (God has granted him that wish) thus he registered a company under that name for Kogi State government. Successive governments for a decade between 1992-2002, failed to capitalize the company and make it up and running.
Abubakar Audu resurrected his pet dream during his second tenure and in 2002 approached Dangote to come and make Obajana Cement company a reality. After series of meetings and negotiations, Dangote added Obajana Cement under the umbrella of its Dangote Cement (that already have the former BCC under its umbrella) through an acquisition arrangement that concessed 90% share for Dangote and 10% share for Kogi State in which 5% stake is for the state government and the other 5% for its citizens interested in investing therein. Dangote was allowed to use the Obajana name as a vehicle of its investment.
It was also agreed that Dangote shall be granted tax relief and exemption from levies and other charges for a period of 7 years to stabilize the company and begin making profits. With the agreement sealed, Dangote seeks the intervention of World Bank under International Finance Corporation and acquired a loan, the first company in the country to have received such.
By 2003 Dangote Industries acquired the 2 square kilometer land in Obajana to build the factory after payments of compensations and receiving C of O's. In line with Nigerian constitution, the Federal Government not state governments, had the licensing authority for extracting mines/resources, Dangote applied, obtained and paid duly the mining leases since inception. It was only in 2010, after the Kogi State government's failure to abide by the agreement clause that stipulates Kogi State government should have the option to acquire 5% equity shareholding within 5 years, that Dangote Industries in an attempt to aligned with the Dangote Brand, changed the Obajana Cement Company's name and the much older Benue Cement Company to Dangote Cement Plc.
In a nutshell, we can discern from the above that Kogi state has no equity claim since they did not invest a single kobo in the company, Dangote paid for the land and the lease for the mines and according to The Executive Director of Dangote, Alhaji Ladan Baki, they have documented proofs for consistent remittance of tax payments to Kogi State Government since 2007. He even went further to claim that Dangote had paid 16 Billion Naira to Yahaya Bello's administration.
Now back to Governor Yahaya Bello's fallacy in this charade. Obajana cement is one of the largest labor employers in the country, employing 22,000 people out of which 50% of them are indigenes of Kogi State. Traditional rulers in the state are usually the ones submitting list for the recruitment of their people at Obajana, yet they watch as Yahaya Bello is behaving like a bull in a china shop. He sent hooligans that besieged the factory, trespassed, intimidate and perpetrates act of violence by wounding several factory workers with gunshots and stabbing. The thugs even forcefully shut down a boiler that operates at a temperature of 1500 degrees, which a mishap could have been calamitous. As a governor that attains notoriety in his failure to pay salaries for his seven years in office and even in this year 2022, a state government employee claiming he received under 3000 Naira for the month of March, can he afford over ten thousand of his people having their livelihood threatened?
As the country is desperately in need for foreign investing, what signal is Yahaya Bello sending to potential foreign investors, when indigenous ones are being threatened like this? What about the loss of man-hours, money, goods and confidence his charade is creating? After being one of the worst performing Governors in terms of infrastructure and maintenance of his civil service (with record of longest unpaid months to civil servant) does he really want to cripple the biggest investment in his state at the twilight of his non-performance tenure?
I concur with Ladan Baki in his assesment that Kogi State has one of the most educated northerners, it is time they rise up to protect their state from ignominy. Politicians usually employs thuggery to cover their mistakes and the Kogi elites must demand what Yahya Bello did with the Dangote 16 Billion paid to the state coppers and other revenue accrued in the last seven years.
Finally, i think this saga should serve as lesson for us all; we must rise against politicians and demand rule of law and transparency and consider them based on what they offer not take from us; Yahya Bello should understand that it is what you do today that judges you in posterity, as we have seen how the Legacy of Abubakar Audu continue to live. As for Dangote Industry, i am vindicated for my earlier criticism of them in their choice of places to invest, closer home is always more secure. What the outcome of this conflict will be, remains to be seen, but hopefully we look forward to an amicable solution when the conflicting sides meets for the second time this Thursday under the arbitration of the presidency.
From Cementing Poverty To Oiling Its Wheels ?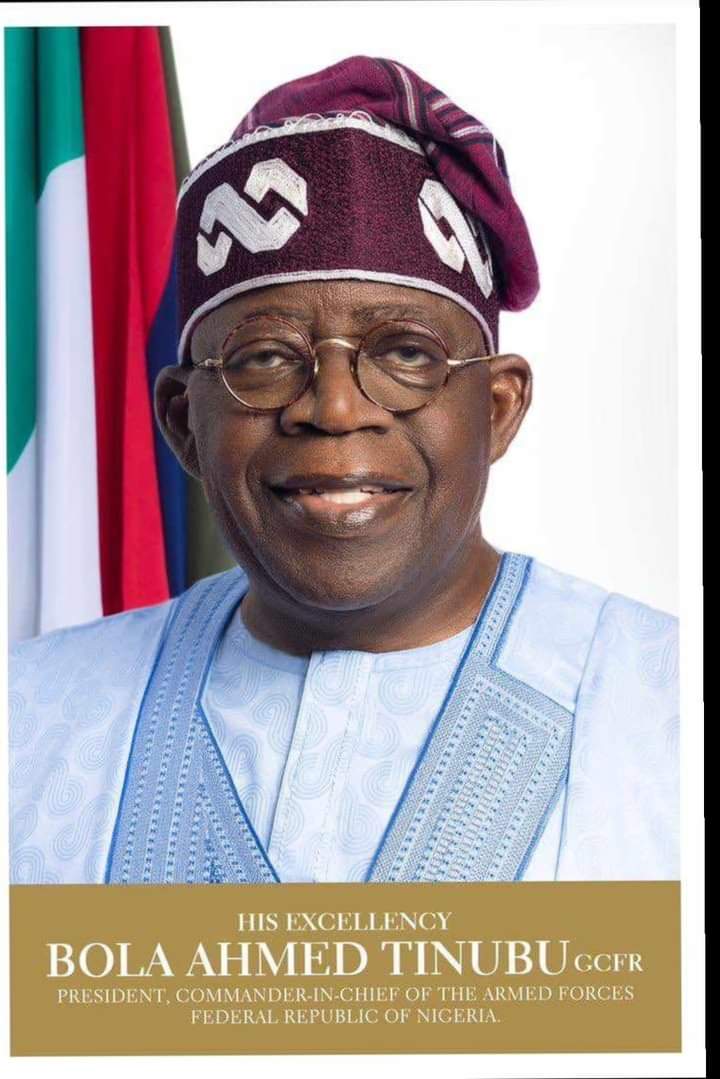 Hamisu Hadejia,PhD
Endowed with vast deposits of limestones, 'why would Nigeria be spending millions of dollars importing cement from abroad?'. This was the question that agitated the mind of Nigeria's former president Olusegun Obasanjo (OBJ) in the early 2000s, leading to the former president summoning the major cement importer at the time, Mr Aliko Dangote, to brainstorm on sorting out the puzzle.
A policy seeking to incentivise cement importers to start local cement manufacture, known as the backward integration policy (BIP), was consequently introduced in 2002, following the private conversations between OBJ and Dangote.
As a sectoral industrial policy, the BIP made the grant of cement import licenses conditional on cement importers demonstrating concrete commitment to set up local cement producing factories. The strategy was to phase out, before completely banning, cement importation when local factories could produce enough to replace imports—a strategy known in economics as 'import substitution policy'.
Among other incentives, the BIP ensured the sales of foreign exchange (dollars) to cement entrepreneurs especially Dangote at the official rate. For example, in a Reuters report, Dangote was said to have secured $161 million at the official exchange rate (of between 197 to 199 NGN per 1 USD) from the Central Bank of Nigeria (CBN) between March and May 2016. If Dangote were to (and he could without any accountability) re-sell this $161 million foreign exchange award in the currency black market, he would have made a profit of $100 million (£68 million) without lifting a finger. Thus, effectively, what this means is that just in a couple of months, the Nigerian government had subsidized Dangote to the tune of $100 million US dollars with taxpayers' money, under the guise of supporting 'strategic' businesses.
Not only that, VAT/custom duty waivers on imported cement making equipment, credit guarantees, and a cumulative tax holidays of seven years were granted to Dangote Cement Companies (DCC).
Government's support to infant firms, industries or entrepreneurs is not a new phenomenon in nations' industrialization processes. Economists such as Alexandre Hamilton (1757-1804), Friedrich List (1789-1846), and contemporary ones like Ha-Joon Chang and Eric Reinert, have documented evidence confirming that these kinds of supports or state-business relations were instrumental to the industrialization of almost all industrialized nations of Europe, North America, and East Asia. However, the state-business relations in Nigeria especially in the cement industry deserves some critical reflections and re-evaluations for social welfare considerations.
THE PROS OF THE BIP
Within a little over a decade, the BIP succeeded in replacing cement imports with local production in Nigeria leading to the complete ban on importation of cement in 2012. Hence, government officials and industry players have never failed to flaunt the BIP policy as a national feat all patriotic Nigerians should celebrate. The bases for this conclusion are three: One, the policy has made Nigeria self-sufficient in cement production; two, it has created jobs opportunities; three, it saves Nigeria foreign exchange which, at the peak of import in 2008, was $304 million. While these 'successes' have been belaboured time and again, Nigerians have been deliberately left in the dark as to the costs of these achievements, which include, but are not limited to, the disproportionately lavish state incentives to cement investors as adumbrated above.
THE CONS OF THE BIP
The ban on cement imports and the dominance of a single player in Dangote gave rise to a monopoly, now duopoly, in the cement industry. Latching on to the opportunity, Dangote has used every trick in the book to initially eliminate competition (e.g., the case of Clestus Ibeto), charge exorbitant prices, and pay the state less than its due in taxes. Any evidence for these claims? Yes, there are plenty! For a start, it is a fact that the Nigerian cement consumers now buy a 50kg bag of cement at almost $10 (official rate). This is outrageously higher than what obtains in other markets including in many African countries, to some of which Dangote merely exports the clinkers he processes in Nigeria using Nigeria's limestones for final processing and sales in those countries at prices lower than he sells in Nigeria! In fact, compared to its price in Nigeria, a 50kg bag of cement costs lower in China ($2.96), Malaysia ($2.3), India ($3.84), Kenya ($5.56), Zambia ($6.45), Egypt ($2.88), South Africa ($5.88), and Ghana ($7.0).
Also, some evidence suggests that the Nigerian state does not get actual value for the lavish incentives it splashes on Dangote. In the DCC's 2016 annual report (p.139) for example, the company's own independent auditors have pointed out that the company's directors had made an 'assumption' about the pioneer statuses of different lines of productions at Ibese and Obajana factories. Without this 'assumption', the auditors concluded that:
"..an additional tax charge of N64.4 billion (2015: N40.0 billion) would have been incurred by the company if this assumption was not made in determining the tax liability."
So, while the Nigerian state has subsidised Dangote generously, such efforts do not appear to have yielded benefits for both the state (which is not paid what is due to her in taxes) and Nigerian cement consumers (who buy cement at over 300% price differentials compared to other consumers elsewhere).
Moreover, with the cement manufacturing process being highly mechanised, the much-vaunted jobs created by the transformation of the industry is, in the final analysis, not worth the costs incurred from subsidization and the expensive cement prices Nigerians pay. For instance, the entire cement industry currently employs only around 30,000 workers directly, and most of these workers are truck drivers. Hence, it does not make any economic sense for Nigeria to, in a bid to keep a few thousand Nigerians in employment, sacrifice national housing needs/infrastructural development by forcing millions of Nigerians to pay extortionary cement prices. Dangote and other players in the industry cannot of course claim credit for the indirect jobs in the downstream retail segment of the industry because such jobs have been there and would still remain regardless of whether cement in produced locally or imported.
But how has Dangote managed to 'cement' his cake and eat it? The answer to this crucial question lies in understanding the nature of two domains of relations, that is: The Dangote-government relations as well as his public or civil society management relations.
Dangote-state relations took off in earnest towards the end of the OBJ first term, that is around the time the BIP was introduced. In his book, 'The Accidental Public Servant', Mallam Nasir El-Rufai, explained that Dangote came close to the OBJ government after the former president had fallen out with his powerful vice and major Peoples Democratic Party (PDP) financier at the time, Atiku Abubakar. Consequently, according to El-Rufai, "Obasanjo had to resort to raising money from other sources and that was how Aliko Dangote came into prominence in the government."
A document from the US embassy in Nigeria leaked by Wikileaks would later reveal that "Dangote purportedly contributed 200 million naira (about $1.5 million at the time) to Obasanjo's first term election campaign, and in 2003 at least another 1 billion naira (about USD 7.5millio) for the second term. Dangote is a known contributor to the PDP party." The cable therefore concluded that, 'it is no coincidence that many products on Nigeria's import ban lists are items in which Dangote has major interests.' Former President Yar'Adua of blessed memory saw through this kind of Dangote's much-vaunted 'entrepreneurial acumen' and moved to free poor Nigerian cement consumers from the monopolistic exploitation before the cold hands of death cut him short. Ever since, the business continues with successive regimes securely holding the cement cash cow by the horns for Africa's 'entrepreneurial guru' to milk in exchange for God knows what.
It is instructive to point out here that across the globe, investment in the cement industry takes between 20-30 years to deliver returns. However, in Dangote's case, returns were delivered in less than a decade. To be clear, no one should begrudge Dangote his fundamental economic right to capital accumulation, however, such private economic right should also not be enjoyed at the social cost of denying Nigerians their fundamental right to housing through extortionary pricing of a product that their own state subsidizes, disproportionate to the social benefits for that matter.
Also, across the globe, profit margins in cement companies range between 30-40%, yet, in Nigeria it is up to 63%! This is because a couple of Nigerians gifted with 'entrepreneurial acumen' have the wherewithal to 'lobby' state officials to protect the market for them to charge whatever price they fancy. In a paper, Richard Itaman and Christina Wolf calculated that between 1999 and 2010, when cement import was severely restricted before its eventual ban, the Nigerian cement consumers, on average, lost N19.63 billion (that is, around $51.4 million in 2021 USD/Naira value) per year because of buying cement at exorbitant prices compared to the rest of the world. In fact, during the same period, Richard and Christina observed that cement prices had progressively increased by up to 300%.
In addition to 'lobbying' the political leadership, Dangote, as investigations by Michael Odijie and Anthony Onofua reveal, ensures the extraction of massive rents in the industry without any opposition from any quarters through his patron-clientelist relations with, and alleged infiltration of, trade/labour union and public/civil society organizations. The authors observed that Dangote generously 'donate' to the activities of these civil society groups with a view to 'promoting the [BIP] policy as a major success.'. The authors stated that he installed his allies in the leadership of critical trade organizations such as the Manufacturers' Association of Nigeria (MAN). Incessant 'donations' and yearly 'gifts' to such organizations as the National Association of Block Moulders of Nigeria and Trade Union Congress have also been attributed to silencing the voices of comrades who were hitherto vehement campaigners against extortionary cement pricing. Michael and Anthony have also observed trends in the co-optation of the media to popularise the narrative that local cement manufacturing is a collective national 'success'.
THE WAY FORWARD
The new administration of President Bola Tinubu will do well by moving in the interest of impoverished Nigerians to address this cement issue decisively. Nigeria should not continue to protect a couple of producers at the expense of millions of Nigerian cement consumers. According to former minister of finance, Mrs Zainab Ahmed, 'the Federal Government will require about $100 billion annually for the next 30 years to effectively tackle Nigeria's infrastructure challenges.' Also, the United Nations remarked that "Nigeria's housing sector is in a complete crisis". Undoubtedly, a critical part of addressing these challenges/crises is by making cement prices affordable to Nigerians. How can this be done? In my view, since the cement producers have been protected and subsidized for longer and larger than necessary, it is time for the cement market to be completely liberalized to allow for imports. This will facilitate competition which will beat prices down and ease the excruciating economic hardship of Nigerians. This is elementary economics. Even if local manufacturers who have been mollycoddled for over a decade fail to compete, so be it! The social benefits of suspending the long imports ban far outweigh the largely private benefits of sustaining it. The benefits of promoting indigenous private capital accumulation or keeping less than 30,000 largely truck-drivers' jobs are not worth making millions of Nigerians homeless in their own fatherland. So, President Tinubu has a choice to make between appeasing a couple of capitalists/cronyists or salvaging millions of poor Nigerians who have no roof over their heads.
Dangote's refinery: Like cement, like oil?
In celebrating the construction/commissioning of "world's largest single-train petroleum refinery" without asking some critical questions, we, Nigerians, appear to have given in more to our sentiment than to our rationality. According to the Central Bank of Nigeria (CBN)'s governor, Mr Godwin Emefiele, who according to Dangote "moved mountains to ensure the success of [his refinery] project", the apex bank ensured the availability of foreign exchange to Dangote to pay for equipment imported for his $19.5 billion refinery. What amounts of this scarce foreign exchange was sold to Dangote? What other monetary and fiscal incentives have been provided to the entrepreneur for the refinery project, and under what terms and conditions? Will all imports of refined oil and assorted products henceforth be banned for Dangote to enjoy another monopoly status in the oil industry, like he does in cement with all its concomitant consequences? Is the 20% Nigerian National Petroleum Corporation (NNPC)'s stakes in Dangote's refinery a bait, decoy, or marriage of convenience to attract state patronage for profiteering business as usual?
Hamisu Hadejia (PhD)
Kashim Shettima And His Eloquent Disposition
By: AbdurRaheem Sa'ad Dembo
The Vice president of the Federal Republic of Nigeria, Senator Kashim Shettima is one man with many explicit quotes. I sometimes referred to him as Barack Obama of Nigeria as I watched him on TV during campaigns and other engagements. He speaks with ease all the time.
The former Governor of Borno state is not an accidental leader as he has shown in all capacity that he is up to the task. As a Governor he did not make noise but silently achieving progress in Borno state. He was accused of sponsoring Boko Haram but that did not deter him, because he believed it was all politically motivated.
If His Excellency had not been picked as the Vice presidential candidate of All Progressive Congress by President Bola Ahmed Tinubu I might not have seen the monumental intelligence embedded in the Kanuri man. In fact, this realisation occurred not to only me but also majority of Nigerians who are members or supporters of All Progressive Congress, APC.
More importantly, the senator-elect for Kwara Central senatorial district and Turaki of Ilorin, Mallam Saliu Mustapha greeted Senator Kashim Shettima on the occasion of his birthday on 2nd September,2022 and described him as follows:"Senator Kashim Shettima requires no introduction nationally. Our quintessential incoming Vice President, regarded as the northern star-boy, has won admiration for his vibrant personality and force of credibility.
…He is a refined intellectual, a relentless achiever, and an eloquent speaker.
Given his understanding of economic and national issues, as well as his educational background as an agricultural economist, he is the ideal copilot for guiding, managing, and safeguarding our national heritage."
Interestingly, long before his ascension to Vice Presidency I had been one of his consistent followers on Facebook, where he regularly shares supremacy jokes between Fulani and Kanuri. Such jokes have been in existence from the time immemorial but Kashim Shettima's style made it to have more flavour and originality. In fact, I usually made comments on his post that the Fulanis are the masters of Kanuris.
In Ilorin such jokes exist too. Our Ilorin Kannikes are from Borno state and they are Ilorin Kanuris. We crack the jokes whenever we come across each other. Similarly, during my youth service at Yobe Broadcasting Corporation (YBC), Damaturu, Yobe State, the jokes always surfaced among the Kanuris and Fulanis who are staff of the corporation, most especially in the news room.
That is by the way. Having watched him closely on TV I realised that Kashim Shettima is one of the great men that usually show gratitude for whoever might have helped them in one way or the other in the past. Indeed, gratitude is one of the attributes of great men. In recent time he has always credibly referred to Jim Ovia as his mentor in banking industry. So to me, President Bola Ahmed Tinubu has made a right choice for picking him as Vice President.
Our President can go to bed without any suspicion with the kind of Vice President he has chosen. One should not be surprised why President Tinubu picked him, because Asiwaju is a political tactician and strategist. In fact, former President Muhammadu Buhari at some point referred to Tinubu as a political strategist.
One does not need anyone to tutor him about Shettima's eloquence, because he reads a lot, I surmise. In fact, recently, I saw a picture he took in his library, which is suggestive of the recipe for his intellectual acumen. When you read, you widen your horizon and hence will be equipped with the wherewithal to making inputs in every situation, be it verbal, technical, sociopolitical, cultural or economic.
According to a German Poet, Heinrich Heine "True eloquence consists in saying all that is necessary,and nothing but what is necessary" Kashim Shettima knows when, where and how to talk,in view of this, let me share some of his quotes
that captivated me like a new
beautiful bride: "Osinbajo is a good and nice man, but nice men don't make good leaders. Nice men should be selling ice cream".
Although this did not go unchallenged by the former Vice President Yemi Osinbajo in his light response that Shettima was a shareholder in Yemi Osinbajo's ice cream company, Shettima's words and the timing were suggestive of his intellectual versatility; politically in this wise.
In August 2022 when Shettima represented APC flag bearer Asiwaju Bola Ahmed Tinubu during the 62nd NBA conference at Eko hotel in Lagos, here is what he said to subdue the hostile crowd: "When I was told that it was a hostile crowd-I am a banker, trained by one of the best bankers in the world. I am Jim Ovia boy- I deliberately wore sneakers to snub at them".
After this event some young Nigerians and public commentators from the opposition were mocking him, but like his usual way Shettima was unperturbed.
"Before 1999, Lagos State has only one Ambulance and Lagos was earning 700 million naira every month but Tinubu increased it to 5 billion naira". Shettima was trying to describe Asiwaju there as a man of vision and with him as president, Nigeria will achieve steady progress.
"Dangote Refinery is a game-changer for the Nigerian economy and it will show that Africa is not only known for crisis". He said this during the commissioning of Dangote refinery by former President Muhammadu Buhari in Lagos.
"Politics is about perception. As we begin the formation of a new administration, I deliberately picked an Igbo man, a Catholic, to be my Chief Security Officer," he stated. "For the purpose of inclusivity and togetherness, again I deliberately picked a Northern Christian to be my ADC. So the so-called founder of Boko Haram is going to be protected by a Christian. He asserted this during a lecture in Abuja that will culminate the swearing-in of President Bola Ahmed Tinubu.In the same event he referred to himself as a child of necessity.
Shettima's voice in support of subsidy removal is another aspect of his coherent disposition. He urged the Governors to support the decision of Mr President on subsidy removal because the oil cabals are dangerous. In his words "The oil scam cabal is a very very powerful cabal that are dangerously loaded and they will go out of their way to undermine this great initiative by Mr President. I will urge our colleagues, our Governors to rally round the president and see to it that will call off the plugs of all the machinations that would be unleashed on the polity in the coming weeks. Some will certainly resist this decision but even now oil is going for 740 per litre in Togo, Cameroon has to closed down their refineries because of the cheap oil coming in from Nigeria.There is a need for us to rally round this beautiful decision by Mr President because it is for the growth of our economy. Our economy is in a very very bad shape, we either get rid of oil subsidy or oil subsidy gets rid of the Nigerian Nation.That is how bad things are…"
Earlier on 30th May, 2023 at his office, he said: "The president has already made a pronouncement yesterday on the issue of fuel subsidy.The truth of the matter is, we either get rid of fuel subsidy or fuel subsidy gets rid of the Nigerian Nation. In 2022 we spent 10 billion dollars subsidizing the ostentatious life styles of upper cross of the society, because you and I benefit 90 percent from fuel subsidy, the poor 40 percent benefit little from fuel subsidy"
Senator Kashim Shettima, the Vice President of the Federal Republic of Nigeria also described the fuel subsidy and multiple exchange rate as two big elephants.
Finally, the Kanuri man has exhibited the necessary prerequisites for identifying a conscious leader through his consistent disposition during campaigns . Indeed, he would be a great asset to President Bola Ahmed Tinubu's administration.
May Nigeria succeed under President Bola Ahmed Tinubu and Kashim Shettima.
4 Big Mistakes of the Buhari Administration Tinubu Should Avoid-Getso 
By Umma Getso
Leadership carries with it the weight of responsibility, shaping the trajectory of a nation and its people. As political figures emerge on the horizon, it becomes imperative to reflect upon the successes and failures of past administrations, seeking to build upon the former while avoiding the latter. In Nigeria, the presidency of Muhammadu Buhari marked a significant chapter in the country's history, characterized by moments of progress and setbacks.
As President Asiwaju Bola Tinubu (BAT) assumed the mantle of leadership, it is vital to examine and learn from the four major mistakes made by the Buhari administration. By recognizing these pitfalls and charting a different course, Tinubu can steer the nation towards a future that embraces sound governance, effective policies, and sustainable development.
Here are the 4 big mistakes of the Buhari Administration that Tinubu should avoid.
1) Late Inauguration of Cabinet Members
President Muhammadu Buhari was sworn in as the president of Nigeria on May 29, 2015. However, he did not appoint his cabinet members until November 16, 2015. This six-month gap was widely criticized as a sign of indecisiveness and a lack of planning. This essay will argue that Buhari's late inauguration of cabinet was a major mistake that damaged his reputation and hindered his governance.
One possible reason for Buhari's delay in appointing his cabinet was that he wanted to find the best people for the job. He claimed that he was looking for people with integrity and competence who could help him fight corruption and insecurity. However, this reason did not convince many Nigerians who expected him to act faster and more decisively. According to a survey by NOI Polls, 67% of Nigerians were dissatisfied with Buhari's delay in appointing his cabinet.
Another possible reason for Buhari's delay in appointing his cabinet was that he was trying to balance the interests of his party, the All Progressives Congress (APC). The APC was a coalition of different political parties and factions that came together to defeat the incumbent president, Goodluck Jonathan. Buhari had to deal with the demands and expectations of his party members who wanted to be rewarded with ministerial positions. However, this reason also did not justify the delay, as it showed that Buhari was more concerned with appeasing his party than serving the nation.
The late inauguration of Buhari's cabinet had a negative impact on his reputation and governance. It created a perception that Buhari was not prepared to lead the country. It also made it harder for Buhari to implement his policies and programs. For example, Buhari's flagship policy, the Economic Recovery and Growth Plan (ERGP), was launched in April 2017, almost two years after he took office. The late inauguration of Buhari's cabinet also affected his relations with foreign leaders and partners. For example, Buhari could not attend the United Nations General Assembly in September 2015, because he did not have a foreign minister.
In conclusion, Buhari's late inauguration of cabinet was a serious mistake that undermined his credibility and effectiveness. It showed that Buhari was not ready to lead the country. It also delayed the implementation of his policies and programs.
This is a big mistake President Bola Ahmed Tinubu must avoid.
2) Ineffective Monitoring of Presidential Directives
President Muhammadu Buhari has been widely criticized for his failure to monitor and enforce his directives on security matters. One of the most glaring examples of this failure was the case of the Inspector General of Police (IGP), Ibrahim Idris, who disobeyed Buhari's order to relocate to Benue state and remain there until the herdsmen-farmers crisis was resolved.
Buhari gave the order to the IGP on January 9, 2018, after he met with Benue leaders over the killing of over 70 people by suspected herdsmen on New Year's Day. Buhari said he had instructed the IGP to "get into (Benue) and take care" of the situation. However, it was later revealed that the IGP only spent one day in Benue and then moved to Nasarawa state, where he reportedly attended a birthday party. The IGP also failed to visit the affected communities or meet with the governor and other stakeholders in Benue.
What were the implications of Buhari's failure to monitor his directive to the IGP? There were several negative consequences of this failure. One was that it exposed Buhari's weakness and incompetence as a leader and commander-in-chief. It showed that he was not in charge of his administration and that he could not enforce his authority or ensure compliance with his orders. It also showed that he was not in touch with the reality and needs of the people.
Another consequence was that it worsened the security situation and the humanitarian crisis in Benue. It emboldened the herdsmen to continue their attacks and killings, as they perceived that the government was not serious or sincere about protecting the lives and properties of the people. It also increased the distrust and resentment of the people towards the government and the police, as they felt abandoned and betrayed by their leaders.
In conclusion, Buhari's failure to monitor his directive to the IGP was a serious blunder that had grave implications for his leadership and governance.
If President BAT must outdo PMB, he should establish robust monitoring frameworks to track progress, identify bottlenecks, and make necessary adjustments. This will enhance accountability, transparency, and overall governance effectiveness, ensuring that policies translate into tangible results for the Nigerian population.
3) Lopsided Appointment
One of the major criticisms that President Muhammadu Buhari faced during his first six years in office was his alleged lopsided appointment of key officials in his administration. Many Nigerians accused him of violating the federal character principle and favouring his northern region and his party members over other parts of the country and other qualified candidates.
According to a report by Premium Times, as of August 2015, Buhari had appointed 29 key officials, out of which 75 per cent were from the north and 43 per cent were from his North West geopolitical zone. The South East had no appointee at all. The report also showed that Buhari had not appointed any female official, unlike his predecessor, Goodluck Jonathan, who had women in all major segments of government.
Why did Buhari make such lopsided appointments? One possible reason is that Buhari was influenced by his personal preferences and biases. He may have chosen people he knew and trusted, or people who shared his ethnic, religious, or political affiliation. He may have also been loyal to those who supported him during his election campaigns or who contributed to his party's success.
True or false, whatever the reason was; it is pertinent to remember that public appointments should not be rewards for personal favour.
In the case of PMB, the alleged lopsided appointments created a perception that he was biased and partial. It also increased the distrust and resentment of some regions and groups towards the government and the security agencies, as they felt marginalized and oppressed.
As Nigeria enters a new era under President Asiwaju Bola Ahmed Tinubu, he should learn from Buhari's mistake and avoid making lopsided appointments in his administration.
One of the blessings of a large population is the abundance of human resources. Every region and every state has competent people to fill in different areas. He should prioritize meritocracy, selecting individuals who are capable, experienced, and committed to serving the nation's interests. He should appoint known and practising professionals to the appropriate ministries and not appoint an accountant to head the education ministry. By appointing qualified professionals, Tinubu can build a team capable of delivering tangible results and gaining the trust of the Nigerian people.
4) Poor Administration and Management of Changes in Policies
One of the most significant mistakes of the Buhari administration has been its poor administration and management of major changes in economic policies.
Although these policies may not be bad in themselves, the government's failure to provide a cushion to interface between the existing and new policies presented a lot of challenges for the people.
The administration has been unable to effectively implement its policies, and it has often made changes without considering the impact on the people.
Border Closure
This has been evident in the administration's handling of key economic policies, such as the closing of the border with the Benin Republic and the redesign of the naira notes.
The border closure, which was implemented in August 2019, was intended to curb smuggling and boost local production. However, it has had a devastating impact on the economy, particularly on the informal sector, which employs the majority of Nigerians. The closure has led to a shortage of goods, increased prices, and job losses. It has also disrupted cross-border trade, which is an important source of income for many Nigerians.
The government has defended the border closure, arguing that it is necessary to protect the country's economy. However, critics argue that the policy has been poorly implemented and that it has caused more harm than good.
They point out that the government did not provide any support to businesses or workers who were affected by the closure. This forced many people to close their businesses or move to other parts of the country in search of work.
The border closure is just one example of the Buhari administration's poor administration and management of changes in key policies.
Fuel Subsidy
In 2016, the government implemented a fuel subsidy removal, which led to a sharp increase in the price of petrol. This policy also had a devastating impact on the economy, particularly on the poor.
The Buhari administration's failure to provide a cushion for Nigerians prior to the implementation of these policies has made it difficult for people to cope with the negative consequences of these policies. This has led to widespread discontent and has contributed to the rise of insecurity in the country.
Redesign of New Notes
The redesign of the naira notes is another example of the Buhari administration's poor change management and administration. The new notes were introduced in 2020, and they were intended to make it more difficult to counterfeit the naira, encourage the digital economy, curb criminal activities and encourage ease of doing business.
However, the new notes policy presented serious difficulty for businesses and the people. This led to the eventual redirection of the policy.
To ensure a successful tenure, the Tinubu administration must recognize the importance of effective policy implementation alongside the formulation of new policies. It should prioritize both short-term and long-term impacts, understanding that intermittent progress is key to achieving lasting change.
The BAT administration should adopt a mindful approach to policy implementation, considering the potential hardships that may arise and strive to minimize them. By striking a balance between policy objectives and the well-being of the people, the administration can pave the way for productive and transformative governance.