How KUST Attains Academic Excellence Under Professor Shehu Alhaji Musa.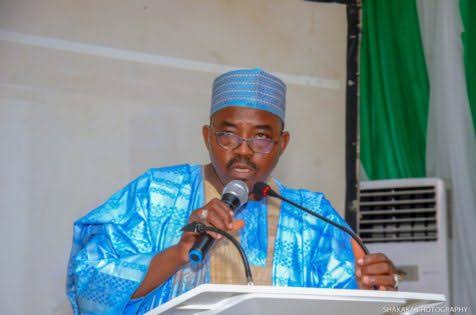 Upon the establishment in 2001, Kano University of Science and Technology, Wudil, commenced academic activities with 88 undergraduate students running academic programs in two specialized faculties, including Agriculture and Agricultural Technology (FAAAT) and Science and Science Education (FASSE).
The ultimate goal to expand the frontier of knowledge and academic excellence in the state's own citadel of learning nevertheless remains a guiding principle while the mission to produce highly skilled manpower resources through teaching, research and training of young talents and generations in the institution is being cultivated as core value.
When Profession Shehu Musa assumes duty with mission
In its 21 years of creation, KUST has undoubtedly been nurtured by the fortune of renowned academic scholars as Vice Chancellors who had contributed immensely within the limited resources to advance the university's core values.
However, the increasing demand and, or search for tertiary education especially in the areas of science and Information technology in Northern Nigeria renewed the challenge for a pragmatic and seasoned administrator who would unlock the space for accessibility and enable provision of globally driven academic programs in KUST.
Judged by his intellectual pedigree and depth of exposure in diverse fields of scholarships, the choice of Professor Shehu Musa resonated for the most prestigious seat in the university.
Professor Shehu was appointed in December, 2013 as the 6th Vice Chancellor of KUST by the then visitor Engr. Rabiu Musa Kwankwaso after he (Professor Shehu) was recommended by the deputy Governor Dr. Abdullahi Umar Ganduje who chaired the strategic committee that revived the university project.
By share providence, the professor of Agricultural economics was considered by Governor Abdullahi Umar Ganduje for reappointment in 2017, essentially to consolidate unprecedented giant stride of academic excellence seeded in the institution.
Entrenching Seven Points Agenda on Academic Excellence
On assumption of duty, Professor Shehu articulated seven target points to focus his stewardship. With clear vision, the VC spelt out some vocal points areas include, strengthening the quality assurance mechanisms of KUST's academic training programmes; Enhancement and expansion of all existing KUST's academic and non-academic programmes and Application of information, communication and technology (ICT) at all levels and areas of the University's operations.
Former Military Administrator Of Rivers State Passes On
Other areas of interest anchored on the commitment to attract research grants and create linkages and collaborations with public and private organizations within and outside the shores of Nigeria; enhance effective staff sourcing and training and retraining, welfare and general development.
Also, the VC dissipated strength on strong policy that attract financial resources mobilization, generation and optimal utilization as well as building a great university team that will breed a faculty of entrepreneurial institutions by maintaining strong ties with external stakeholders that deliver added values to the activities of KUST.

Although the university set out a strategic vision plan envisaged by founding fathers as encapsulated in the six strategic action plans between 2011 and 2015, the seven points' agenda of Professor Shehu was designed to revitalize the existing plans with innovation without prejudice. Perhaps for the record, Professor Shehu Musa mapped out additional four vocal points to galvanize the existing six.
Academic Programs before Professor Shehu's Appointment.
Before the appointment of the present Vice Chancellor, KUST had 27 academic programs at undergraduate level, most of which are yet to attain full accreditation by National Universities Commission (NUC).
According to Director Academics, Dr. Maitama Abubakar Hotoro, KUST runs 27 academic programs prior to the appointment of Professor Shehu in 2013. Dr. Maitama however disclosed that KUST has witnessed tremendous expansion of academic programmes.
Expansion of Academic Faculties, Departments and Units.
Under the guidance of the fourth and fifth governing councils chaired by AB Mahmoud SAN and Professor Zubairu Iliyasu respectively, the Vice Chancellor was able to expand frontiers of academic excellence in the university.
Between 2013 and 2017 alone, significant progress in the expansion of academic faculties, departments and academic directorates has been recorded. The new faculties include Earth and Environmental Sciences and Engineering Technology.
Some of the new departments include Human Kinetics, Computing and Mathematics Education, Science Education, Library Science, Technical and Vocational Education and Education Foundation. Other new courses established by Professor Shehu are Quantity Survey, Estate Management, Building Technology, Automotive Engineering, Agricultural Engineering, Water Resources & Environmental Engineering, Science Laboratory & Technology, Environmental Health,
Apart from the 14 new undergraduate programmes, the name of Professor Shehu would remain in sand of time for equally piloted the establishment of 10 postgraduate (M.Sc) programmes in the history of KUST. The M.Sc programs include Animal Science, Crop Science, Agricultural Economics and Extension, Mathematics, Architecture, Geography, Chemistry, Physics, Microbiology and Geography Information System.
It will be interesting to know that all the new courses have passed assessment and are duly accredited by National Universities Commission (NUC). The NUC's substantive credence came after critical inspection and validation of manpower resources and modern facilities provided for the training of highly skilled under and post graduate students.
Establishment of Institutes, Directorates and Linkages.
Committed to advancing academic excellence and placing the name of KUST on the front banner among globally recognized centers of knowledge, the Vice Chancellor, Professor Shehu Musa also established institutes and directorates to strengthen community and environmental development.
The institutes of repute include Audu Bako College of Agriculture, Danbatta; Information Technology Institute, Kura; Sports Institute, Karfi; Corporate Security Institute, Gabasawa; Fisheries Institute, Bagauda; Fisheries Institute, Magaga; Poultry Institute, Tukwui; Livestock Institute, Bagauda; Horticultural Institute, Bagauda and Hospitality and Tourism Institute, Kano.
Directorates under the stewardship of Professor Shehu Musa stretch across areas. These include directorates of Strategic Planning, Renewal Energy and Climate Change, Quality Assurance, Alumni and Advancement and University Farms.
Other directorates are Kano University of Science and Technology Division of Agricultural Research and Colleges (KUSTDARC) where all agric Allied Institutes are domesticated, Institute of Continuing and Innovative Education to oversee and run the affairs of the transferred Institutes as well as Consult and Investment Limited (A consultancy services provider and Investment outfit.
Banking on the credibility of Professor Shehu Musa, the Chancellor of the university and richest man in Africa Alh. Aliko Dangote also agreed to recruit 15 foreign based professors in various fields of learning essentially in the areas of agriculture, engineering and science and technology. Dangote promised to take care of the accommodation and fund the salaries and allowances of the lectures for the next 4 years.
Besides, Alh. Aliko constructed 500 bed spaces capacity each for female and male students' hostels, provides 660KVA standby generators, stepping down the 33KVA line into the main campus and offer automatic employment to first class graduates of the university, among other intervention. Little wonder the university visitor considered rename of KUST after Alh. Aliko Dangote University of Science and Technology, (ADUST), Wudil.
Before his appointment, Professor Shehu Musa has distinguished his intellectual prowess and administrative skill in various capacities. Hence, the unprecedented records of academic excellence in KUST do not just emanate by accident.
The VC has sacrificed time and personal comfort to move KUST to an advanced level and place the institution among top globally recognized universities with affiliations and lineages with world class institutes.
Sa'idu Abdullahi Nayaya
Deputy registrar, Public Relations
Kano University of Science and Technology, Wudil.
Hon Mahmud Celebrates First Son, Adnan Marriage in Kano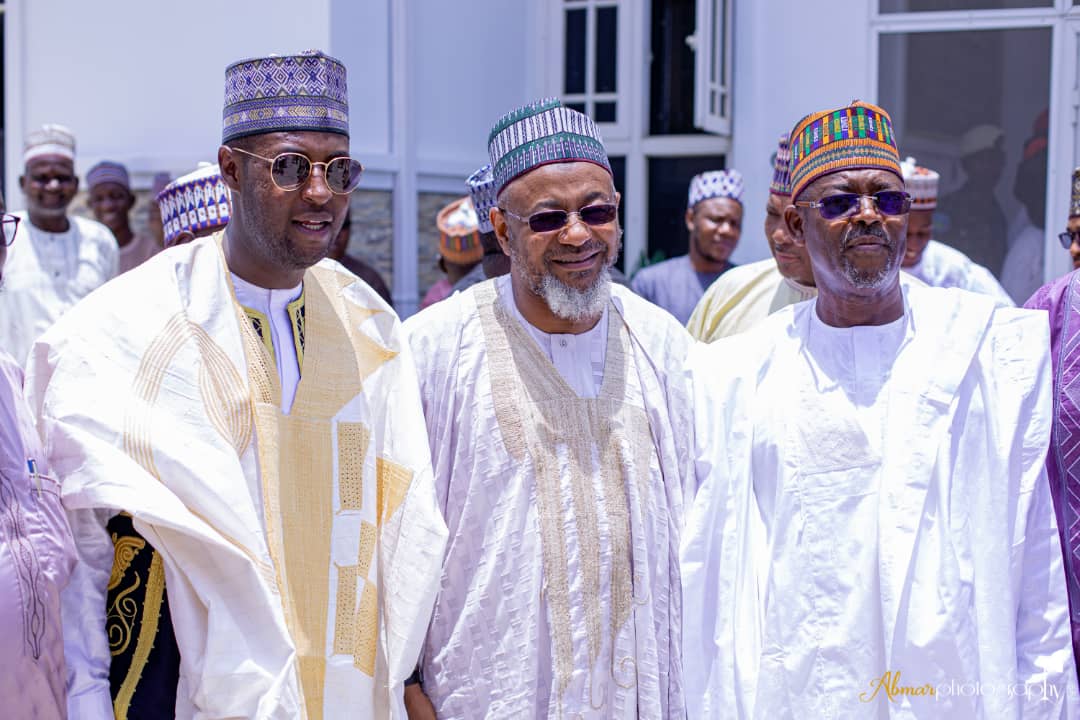 Abu Ahmad
The son of a Federal Lawmaker, Hon. Abdullahi Mahmoud Gaya representing Gaya, Ajingi and Albasu Constituency tied the knot with Aisha Mukhtat Idris in Zamfara State on Saturday.
The marriage was officially tied up at Gusau the capital of Zamfara state with an undisclosed dowry amount while family members in Kano joined live zoom to attend the ceremony.
In Kano, notable politicians stormed the state to rejoice with the family of Hon. Abdullahi Mahmoud Gaya, Chairman House Committee on Petroleum downstream.

Dignified Nigerians, national and states lawmakers and and fellow citizens across the country witnessed the colourful event at the residence of the lawmaker in the state.
Speaking during the ceremony Senator Bayero Nafada Counselled the couple to exercise forbearance in their union and congratulate his colleague for seeing his first son married in good health.
"There should be patience between the two of them, more especially the husband; wife and husband when it comes to patience, the husband must be more patient than wife and wife must be obedient to the husband, if she is very much obedient to the husband then I believe the husband will not contemplate adding another one. So I want to advise all of them to take their responsibilities and I am using this opportunity to thank their parents for the good upbringing of their children" Bayero Nafada said.
Abdurrahman Umar, uncle of the groom said "the marriage of our son Adnan today is a great day, we are much grateful to all those who attended the wedding today, My cousin Abdullah Mahmoud showed that he is a great leader in our society by hosting notable dignitaries to witnessed the marital ceremony of our son.
Shortly after the religious rite in Gusau, Dr Bashir Umar chief imam of Alfurqan Jumaat mosque prayed to Allah to bless the marriage and grant the couple pious children. Also Dr. Abu Bakar Lawan chief imam of Triumph Jumaat mosque prayed for the couple and advised them to live in peace and harmony..
The joyous groom, Adnan Abdullahi Mahmud thanked Almighty Allah for sparing his life to witness this historic moment of his wedding day. "I thanked Allah for allowing me to witness this historic moment in my life, I also thanked my father Alhaji Mahmud Abdullahi Mahmud Gaya who trained me and supported me at all levels, words cannot express my appreciation to him, my mom, members of immediate family, friends, well-wishers and all those who have come from far and near to rejoice with our family on this great and historic occasion, May Allah in his infinite mercy reward everybody"
In his goodwill message Hon. Abdullahi Mahmoud Gaya expressed his happiness and appreciated the dignitaries and well-wishers who came from far and near to rejoice with his family. He later urges the couples to be patient and embrace the Sunna of Prophet Muhammad (S.A.W) with the fear of Allah SWT in all their activities.
Among the dignitaries who attended the marriage ceremony in Kano were NNPC Boss, Mele Kyari, Honourable Alhassan Ado Doguwa, Malam Abdurrahman Umar, Former Chief of Air Staff Air Mashall Muhammad Umar,State APC Chairman Abdullahi Abbas, Alh. Manniru Babba-Dan Agundi, Sanetor Bayero Nafada, Honourable Sha'ban Sharada, Hon Hafiz Kawu, Dr Kabiru Said Sufi, Captains of industries and government agencies, technocrats, members of state and Federal Assemblies, friends and supporters of Gaya's family, politicians and other stakeholders.
in Zamfara state capital, the wedding was also attended by Zamfara State Deputy Governor, Sen.Hassan Muhammad Gusau, Former Governor Zamfara State ,Hon.(Dr.)A.A.Yari., Former Sokoto state Governor, Distinguished Senator.Dr.Aliyu Magatakarda Wamako (Sarkin Yamman Sokoto) His Excellency, Alhaji Mahmud Aliyu Shinkafi.(Dallatun Zamfara), Distinguished Senator,Tijjani Yahaya Kaura(Tafidan Kaura), Hon.Lawal M.Liman,(Gabdon Kaura), HRH.Alhaji Hassan Attahiru, (Emir of Bungudu). HRH.Alhaji Dr.Bello Muhammad Barmo, (Emir of Mafara),, HRH.Mejor Sunusi Ahmad Muhammad Asha (Emir of Kauran Namoda),HRH.Alhaji Bashar Isma'il Ari III.(Emir of Moriki), Mai martaba Sarkin Tambuwal. HRH Emir Gobir na Isa.Rt.Hon.Bature Umar Sambo,(Sarkin Sudan Gusau),Alhaji Lawali Muhammad,(Makaman. Kaura), Engr.Abdullahi Abdulkareem,
(Katukan Tsafe) Professor Abdullah Shinkafi,(Walin Shinkafi). Alhaji Yahaya Abubakar Yari, Alhaji Jafar Abubakar Yari, Hon.Sha'ayya S.Pawa (Dan-malikin Mafara), Hon.Bashir Muhammad Yusif Dala, Malam Kabiru Sokoto, Hon.Sani Musa Talata Mafara. The nuptial knot was tied after a bride price of was paid to the bride parant in Gusau Zamfara state.
Online Universities: The dawn of a new era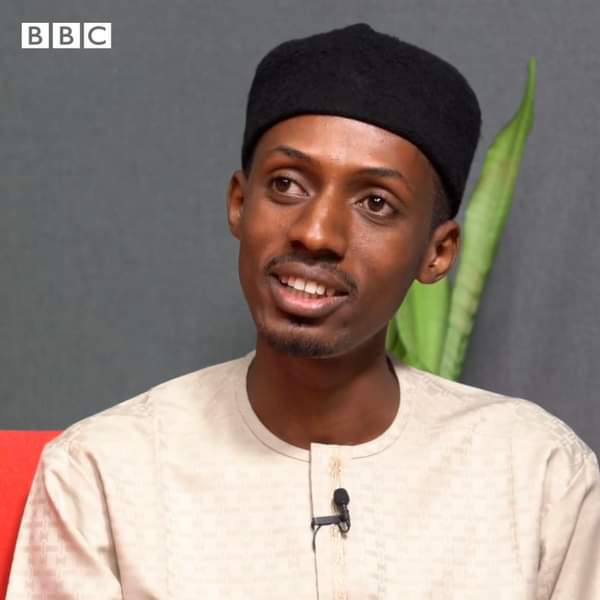 By Rayyan Tilde
Since the start of the internet era, our civilization has been experiencing a great change in the way we do almost everything. From the way we communicate, to what we eat, down to how we entertain ourselves. Every sector has changed drastically since the advent of technology. Educational sector is one of the few sectors that is yet to be seriously disrupted by technology. I believe technology will continue to disrupt the way we do and see things even to the extent of fully actualizing what Huxley portrayed in his book (Brave New World).
The way things are taught today is [in some areas] the same as they were taught 200 years back or even the way Fatima bint Muhammad Al-Fihriya founded the world's first university in 895 CE in Fez. That is about to change with online universities — the platforms that are ushering a new era of learning.
What's an Online University?
An Online University, like any other conventional university, is an authorized place where you can study and earn your First, Masters and even Doctorate degrees. The major difference is that it is done remotely by using the internet as a medium that connects you with the university.
Challenge
The Online University like any other new thing before it, is still yet to be fully accepted by people especially in Africa. It's clearly written in many traditions that humans tend to stick to what they are used to. They tend to perceive it as being safe while portraying the new one as being unpromising. Calestous Juma in his book "Innovation and its Enemies", mentioned 10 innovations that were heavily criticized when they came into existence. He explained how coffee was rejected, Tractors, Electricity, printing of the Quran and other innovations.
Zulum is Coming-Dr Aliyu Tilde
A more recent example is how many scholars rejected the idea of listening to the Quran on a radio, regarding those that did that as apostates. Great Imams like Sheikh Ibrahim Niass had to go through a lot to convince the ummah that it is absolutely fine to listen to the Quran on a radio.
In 1892, John Froelich introduced the first tractor to replace the animals that were used on the farm, there was a great resistance from those that were using the incumbent source of farm power that had reached its biological capability, especially those that were fixated in the business of selling oxen and mules that work on the farm.
Today, it will totally be funny to find someone that's against the above mentioned innovations as far as he is in a civilized society. An Austrian economist, Joseph Schumpeter, concluded in one of his researches that "Resistance to new technologies is often frowned upon as a temporary phenomenon that is inevitably overcome by technological progress". I believe online universities will become more accepted as the technology used in the platform improves. With the progress that's being made in fields like Augmented Reality and Virtual Reality, it is now possible for a university to teach its students basic practicals with Augmented Reality and a more complex one with a VR headset — from their homes. Though VR headsets are expensive now, I believe they'll soon be available at a more affordable rate.
Advantages
According to BioHistory, new things emerge when humans reach a limit, thus being stressed which will then force them into finding a better solution, they considered it to be the building block of civilization — according to a research they did about the roman civilization and the modern-day western civilization.
I consider it to be a miracle from our Lord (SWT). For instance: With Farm mechanization, He saw how our population was increasing, if it were to increase without a creative way of producing farm produce for us to eat, there would have been a great hunger globally. Same with the way we study. If you look at the number of students that are trying to have a degree, there's no way they can fit into our conventional university system without a compromise in the standard of learning. Online universities will be able to solve this since the platforms are tailored to appeal to every student in an individualistic manner.
Elon Musk's Starlink is a device that uses satellite technology to deliver internet connectivity to anyone that's using it at any point on this planet. This type of technology will help in allowing people in remote areas to still benefit from this system of learning.
Advantage – Finance
With Online Universities, you don't have to worry about the cost of accommodation, feeding, transportation and other expenses that you may incur if you were to study away from home. This means one can study in a university that's in the United Kingdom while he lives in an environment where life is extremely cheap.
Many online universities now allow students to enroll for a single course at a time. This makes it easier for students who can't afford to pay for a complete program, by allowing them to take their courses as funds become available to them.
Advantage – Morality
I believe it is the fear of every right-thinking parent that their child will leave their home and go to a place where his upbringing will be challenged by the influence of other people — if they are to enroll in a conventional university.
Online Universities in Nigeria
There are a few number of accredited online universities in Nigeria, the one I can attest to, after researching both online and offline is the one from ABU Zaria. They offer a variety of courses and the best part is, they offer the same certificate as that of the students in-campus.
Conclusion
In the next 20 years, I believe online universities are going to dominate the educational system. The fact that someone from my village at Tilde or any other place on earth — as far as he is connected to the internet, can be able to enroll in a university anywhere on this planet and graduate will make life easier for everyone.
Rayyan Tilde
17.07.2022

A Peep into the Life of Almajiri
Abdulmutallib Mukhtar
I found myself at Kwanar Mikiya, a popular community in one of the busy North-western cities, trying to catch up with a strange life among my age-mates and those children slightly above my tender age. As a boy of four years old, I thought my father would come and take me home in the evening like it usually happened when we went to the farm some two kilometres away. But even after the sunset prayer, I could not see the windy approach of my father; I could not also hear the sound he made while clearing his throat; a thing which usually announced his presence and made him recognisable. I realised that I was really meant to pick up from where my father left off as stated by the teacher. My father attended the same traditional Qur'anic school with him. And as a way of preserving the practice, my father deemed it necessary for me to learn the Holy Qur'an in the same way they did during their time.
Power Outage :In 3 Month 100 Industries Shut Down In Kano
About 7:30pm, I saw the kids I met there with empty bowls ready to roam about and beg for food. They asked about my own bowl and I suddenly remembered the one my father bought for me a day before he sent me away. I joined those kids unwillingly as my stomach kept roaring in hunger. Just like any other kid, I found my way too, going from one house to another in search for food. I went to about twenty houses but yet carrying empty bowl while the hunger was becoming more impatient deep down my stomach. I was saved when I met a fellow kid from the same teacher who got a leftover that started turning sticky and smelly. The kindness of the kid was very impressive as he asked me to join him. I would have collapsed if a minute was added without me recharging my stomach through the cable of my oesophagus. I thought that was entirely all for the night even though with a stomach not fully satisfied, but my fellow kid told me that the teacher and the seniors would mercilessly whip me if I returned without bringing for them too, a bowl of food.
I found my way still penetrating through dozens of streets at Kwanar Mikiya, to beg food for my teacher and seniors while the night was eyeing me with lightening and thunder–a signal that told me the rain was coming soon. Within some minutes, the gallant cloud began firing the droplets of rain on the roofs, making a sound that reminded me of my mother, the time she used to call my attention on the health danger of playing in the rain. I got a place to stay for the rain to subside. But it was the kind of heavy rainfall that lingered for almost two hours. The place I hid was close to the gate of a particular house with bulbs and flowers all over; above the gate was a kind of roof that covered me from getting drenched.

One hour was gone and the rain still falling. I sat down and leaned against the gate with my new empty bowl before me. I began to doze off as the night got deeper and darker with punctuation of lightening and frightening thunderstorm. Finally, sleep gently stole me away.
Not so long later, the blaring horn of a car woke me up, sending shivers down my spine. Upon opening my eyes, I saw the headlights of the car flashing me. I quickly took my bowl away from the gate. The car driven in after a man, more of a gateman, slid the gate. Quickly, the door opened and the man rained cloud of insults on me. He warned me never to come close to his mansion let alone leaning or sleeping there. This man never considered my age and the circumstances I found myself. It was not my doing but that of my parents whom despite what they had been hearing and seeing about such system of learning, still forced me out of home (womb?) to a homeless life.
I returned after getting the food for my teacher. I thought I would be shown a place to sleep but I saw every kid taking his slate to recite the Holy Qur'an before sleeping under the watchful eyes of senior colleagues who whipped anyone that did not recite. I brought my slate out. A senior colleague collected and wrote something on it with a small tiny dried stick which served as a pen after putting it inside a bowl of dark thick water. He read and asked me to read after him.
After two hours of learning and recitation, we went to sleep. It was very much terrible to my eyes the place I was to sleep. A dirty, smelly, cold and rat-filled dilapidated building was the new home. The small room was containing ten kids, the other room too. The senior colleagues occupied another room. We slept off on torn off mats that were spread on grassy ground. The rooms had no ceiling. Lizards could be seen hanging on the top sides of the wall. Cockroaches, mosquitoes and begbugs were the real companions of the roommates. The room had a smell that could destroy the lungs if one stayed too long. That's why some of us preferred to sleep outside the house if there was no rain. We were exposed to dangers of all kinds.
Fiction
Written by Abdul Mutallib Muktar
abdumutallib.muktar@gmail.com