How I trekked To Govt House To Submit My Son's Credentials For Kwankwasiyya Scholarship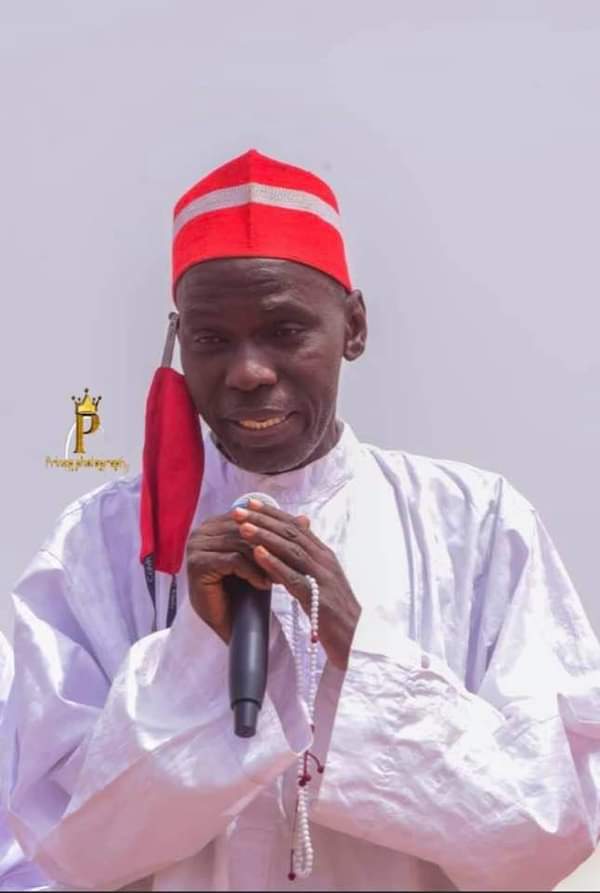 By Ibrahim Adam
Malam Shaharani is a father of one of the beneficiaries of Kwankwasiyya Scholarship Scheme. His son (Mashahud) was sponsored twice by the administration of HE Sen. Kwankwaso for undergraduate degree and Msc by Kwankwasiyya Development Foundation, all in India.
While he was weeping and thanking Sen. Kwankwaso yesterday on behalf of other beneficiaries parents, during a 3-Day Job Fair for Kwankwasiyya Sponsored Students, he narrated how he trekked from his house to Kano govt House with just 10 Naira in his pocket, to submit the credential of his Son, after he heard on Radio station, the advertisement of Scholarship abroad by Kwankwaso's administration for Kano State Secondary Schools graduate that graduated with 9 credits. That is, in the year 2012.

Luckily enough, his Son was sent to Sam Hagginbattom University in India for his undergraduate where he bagged 1st class degree in Pharmacy. Upon his return, Kwankwasiyya Development Foundation under the auspices of Sen. Kwankwaso sponsored him again to Sharda University In India where he bagged his Msc.
He narrated how all this happened with having no connection with Kwankwasiyya govt and Kwankwasiyya Development Foundation.
While Listening to the fulfilled father talk, my mind and attention quickly shifted to Madugu who was sitting far from the podium, as he listens to the emotional father talk. You could see fulfillment, even bigger and greater than the father's in Sen. Kwankwaso's face. I still wonder what he must have always felt whenever beneficiaries of his vast human capital development programmes or their parents make public testimonies in appreciation of how he changed their lives. " There sits a great man" I told myself, the only reflection of the likes of Sardauna and Balewa.
Ibrahim Adam is the Media aide of Kwankwasiyya movement
Save SES Tudun Maliki From Collapse
Tasnim Muhammad
Assalam alaikum to all concerned in special education training and development in Kano State and in particular many of us who attended Special Education School (SES) Tudun Maliki Zoo Road, Kano, especially the hearing impaired graduates among other physically challenged persons.
It is all about our former school. I am sad and worried about the information coming out from our alma-mata, most especially the poor teaching conditions, lack of discipline in the school, the lack of classrooms and teaching materials as well as many other things including the houses, accommodations and school environment which are all said to be in very bad and deplorable conditions.

Former Heads Of State Express Confidence In Army's Effort At Tackling Insecurity
I am feeling really bad upon hearing this disturbing news. I don't want our school destroyed or at the end of the day even closed down due to its bad state. I just want to continue seeing good developments happening in the school environment. I know many of you hearing impaired have heard about these situations, but have chosen to keep silent without expressing any complaints.
I swear by Allah that I don't want that school closed. If for nothing, I know there are many deaf and blind children of persons in our society who are eager to come and join the school, but because of the bad environment of SES Tudun Maliki, Kano some parents don't want their children to come there, and some don't want them to continue getting educated in the school like this.
Some of the students are currently being transferred by their parents to other schools of hearing impaired, because of the lack serious teachers who can train or teach them well, unlike it was obtainable before, during our time or in the past I mean. I also learnt that nowadays the students of our school SES are not serious in their studies. Some of them don't even know how to recite the English or Hausa alphabets from A-Z! Others are not good in maths and other subjects.
We are also reliably informed that many of the teachers who are good at teaching and can communicate very well in Sign Language have been transferred to other hearing impaired schools. While new teachers brought to teach in that school don't know how to teach deaf students with the all important sign language.
This to say the least is too bad. By doing this they are seriously harming and even destroying our future. Many of us are striving to get educated despite being deaf and blind, yet this development is doing us further damage. We are getting nothing of benefits from it.
It is a pity that in our former school now students do not obey laid down rules and regulations, and there is no controlling of students as if it is a market place where everyone can wander aimlessly around the compound with no one staying in their classes.
I am begging you for Allah sake all hearing impaired graduates of the SES school, please don't let our former school get destroyed or emptied. I want to see the students (males and females) grow up good within the school environment, get good education and have good moral and religious training.
Also let me use this opportunity to call on some of us phearing impaired ex-students of SES Tudun Maliki Kano who are opportune to attend various tertiary institutions in Kano, Nigeria and even abroad, and have graduated with NCE, ND, HND, B.A, B.Sc, M.A, M.Sc etc from colleges, polytechnics, universities and so on to please come and help us save the situation.
Come and give something back to the school by formally applying to get employed as teachers at SES Tudun Maliki to assist in teaching and training these physically challenged students, so that they can become well educated, thereby contribute their own quota to society. Also we are appealing some of our retired teachers who can teach in Sign Language, they should come back from retirement and teach on Contract Basis.
May Allah grant us this our prayer. May these our hope, aspiration, secured future and dream come true, amin. Thank you.
Tasnim Muhammad
Former Student, SES Tudun Maliki Kano
The Trauma Associated With Sexual Assault
Hafsat Muhammad Yola
When a girl decides to report a sexual harassment or an assault, the first people to dissuade her will be her parents most especially her mother. Be it because she doesn't want her daughter's image to get tarnished in the eyes of future potential suitors or their families.
These may serve as a weakening point to a girls voice so early that it crumbles her ambitions, courage, vision, happiness and reduce her to a submissive timid and robot.
These pedophile starts abusing girls at a very tender age and are usually trusted family relatives a girl sees every day.

It escalates when a girl reaches adolescent. she becomes extremely self conscious because of creeps that prey on her innocent body.That might even be the bases she's an introvert but parents hardly pay much attention.
Still when she's an adult men say crude and dirty things to her in the guise of compliments and coerce her to illicit affairs that violates her self esteem.
An she's not too old to be groped by a teenage boy who could be her son's mate. These results to many psychological trauma faced by the female gender and they're too ashamed to confide in anyone.
Dear women,young or old,beautiful or less,white or black,Muslim or Christian, no matter what your race,culture or value is your body is a sacred temple;a gift from God that you dare not allow any man to defile!
Hafsat Muhammad Yola studies at the Faculty Of Communication Bayero University Kano.
Nigeria's Myopia to Insecurity- Hafsat Yola
We're gradually losing ourselves yet content. Very few are voicing the turmoil we're facing, or are we all secretly waiting for the inevitable to achieve a silent agenda?.
We've embraced death reports like another wedding announcement. Our life's worth a fly's because it can be smashed any moment and we're content with it.
Stranded Nigerian family in UK appeals to Buhari, NiDCOM for urgent home return
Do we still have empathy towards those paying ransom for their kids, that lost homes, families, and lives to terrorist attacks, massacres by bandits and God knows who?
Yet, we're not agitating for a security revolution, together with leadership. Perhaps it's the resignation towards hope that the country might not be saved because no one is inclined to fight for our so-called 'beloved country'.
There should be a demand for the ban on National Anthem recitations in schools or The pledge, no Independence day celebration until we can shout in good spirit 'my fatherland' again, what are we even celebrating? Terror?
In schools, we're taught that Sovereignty is one of the major attributes of a nation, but Nigeria is on the brink of an earthquake from internal forces.
Do we even still have nationalists that want to do right by our country? Our youths are in illusion led to yearning for foreign countries' identities against theirs, it's like picking a child and allowing yours to sink in the mud. We're slowly losing our identity and content with it.
Why?
Hafsat Muhammad Yola
Is a level 400 student in the Department of Mass Communication, Faculty of Communication, Bayero University, Kano