Dangote Grooms Nigerian Engineers to Manage Refinery Complex on Completion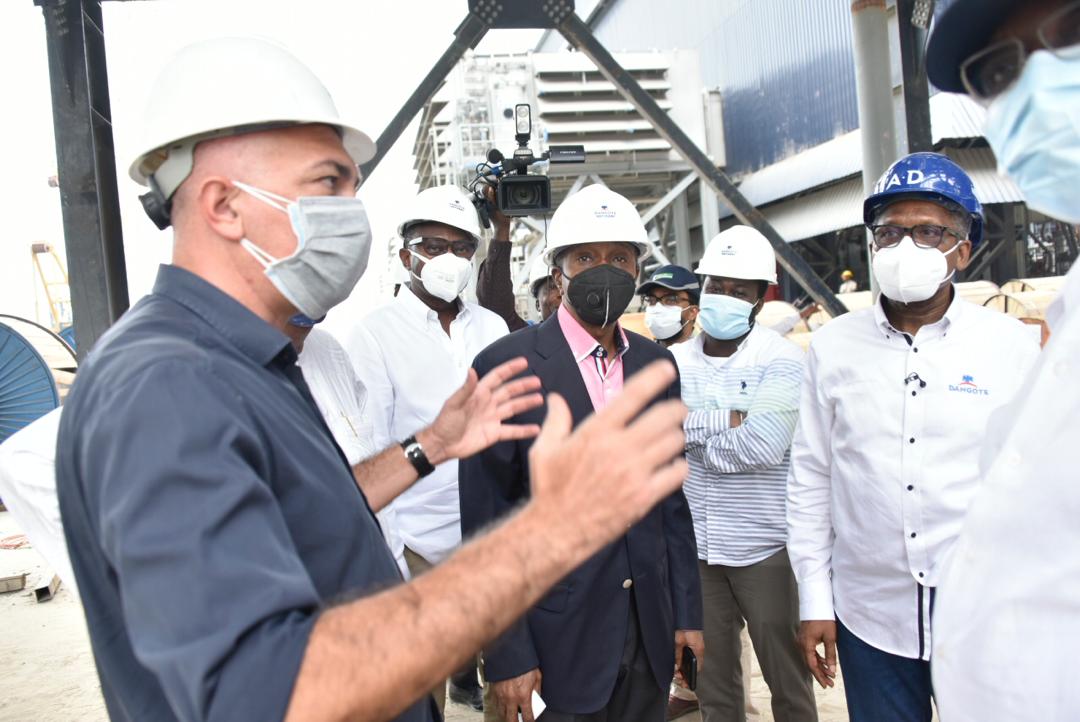 The Management of Dangote Oil Refinery is preparing young Nigerian graduates to take over the management of its 650,000 barrels per day single train refinery when it becomes operational in 2022.
Already, the company has trained several Nigerian engineers in some of the world's biggest refineries in India and other parts of the world to gain first-hand experience on how to manage a refinery of this magnitude.
The President of the Dangote Group, Aliko Dangote, who made this disclosure on Saturday during the tour of the Dangote Refinery by the Central Bank of Nigeria (CBN) Governor, Mr. Godwin Emefiele, affirmed that the country is blessed with great talents that are capable of running a refinery of this size, if given the necessary encouragement.
According to him, the outbreak of Corona Virus in 2020, which forced many expatriates out of the Construction site made it possible for the company to identify great talents that exist within Nigeria.
Dangote stated: "One thing that gladdens my heart is the young Nigerians we have trained to take over the operation of the Dangote Refinery. These young Nigerians are the ones that are going to run the refinery when it becomes operational. We want a situation whereby the operation of the refinery will be the sole responsibility of Nigerian graduates. We can start the process by bringing in team leaders to keep giving them that training they require to run a world class refinery. However, we will ensure that Nigerian engineers, welders and others are the ones running the refinery. We have created that capacity, human capacity, equipment capacity and every other thing to ensure the successful operation of the refinery by Nigerian engineers."
Speaking also after the tour of the refinery, the CBN Governor, Godwin Emefiele said that arrangement is being made to enable the Dangote Refinery sell refined crude to Nigeria in naira when it commences production.
The CBN governor noted that the $15 billion projects being constructed by the Dangote Group would save Nigeria from expending about 41 per cent of its foreign exchange on importation of petroleum products.
Emefiele said: "Based on agreement and discussions with the Nigerian National Petroleum Corporation and the oil companies, the Dangote Refinery can buy its crude in naira, refine it, and produce it for Nigerians' use in naira.
"That is the element where foreign exchange saved for the country becomes very clear.
"We are also very optimistic that by refining this product here in Nigeria, all those costs associated with either demurrage from import, costs associated with freight will be totally eliminated.
"This will make the price of our petroleum products cheaper in naira. "If we are lucky that what the refinery produces is more than we need locally you will see Nigerian businessmen buying small vessels to take them to our West African neighbours to sell to them in naira.
"This will increase our volume in naira and help to push it into the Economic Community of West African States as a currency," Emefiele said.
He expressed optimism that the refinery would be completed by the first quarter of 2022, adding that this would put an end to the issue of petrol subsidy in the country.
"I am saying that by this time next year, our cost of import of petroleum products for petrochemicals or fertiliser will be saved, which will save Nigeria's reserve. "It will help us so that we can begin to focus on more important items that we cannot produce in Nigeria today," Emefiele said.
5 customers win N1m cash each in Dangote cement promo in Kano
He said the CBN had given a N100 billion intervention to the projects, adding that the apex bank was ready to support Nigerian businesses set up to uplift the country economically.
Dangote said that the fertiliser and petrochemicals plants were capable of generating 2.5 billion dollars annually while the refinery would serve Nigeria and other countries across the world.
Dangote thanked President Muhammadu Buhari and the CBN governor for their support toward the completion of the projects.
He said: "I will like to thank the President personally for helping us and assisting us in making sure that we are now back on track.
United Nigeria Airlines Opens Kano, Sokoto Routes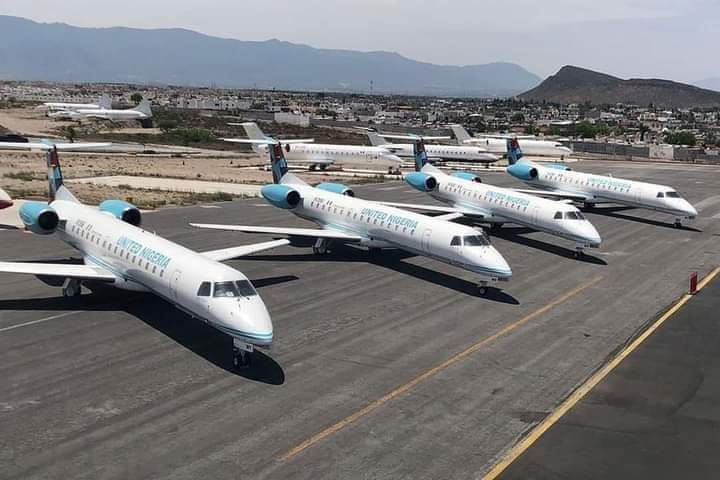 Nigeria's fastest growing carrier, United Nigeria Airlines, has concluded plans to expand its operations to unite the northern part of the country with the opening of offices in Kano and Sokoto states.
This is coming amid plans to also connect Edo, Plateau, and Borno states with the arrival of more aircraft.
The Kano and Sokoto offices of the airline will operate at the Malam Aminu Kano International Airport and the Sultan Abubakar International Airport.
Already, plans are in top gear for the inaugural flight to the two airports planned to take place between December 1 and December 2, 2023.
Commenting on the expansion of scheduled air transport services to Kano and Sokoto state, Chief Operating Officer (COO) of United Nigeria Airlines, Mazi Osita Okonkwo, said the airline was interested in uniting Nigerians across more cities in the country.
According to him, the expansion of flight services to Kano and Sokoto, with a further vision for Edo, Plateau, and Borno states is part of the strategic plans of the company to unite Nigerians and offer them more options for air travel.
Mazi Okonkwo said that with the expansion of air transport services to the north, Nigerians would have more options to connect with more cities, their loved ones, and businesses in safety and in comfort.
"We shall soon commence scheduled flight operations to Kano and Sokoto. Already, we have put support infrastructure on the ground at the airports to facilitate this vision. Our mission is to expand the travel options available to Nigerians so that more people can travel by air.
"This will enhance connectivity between Nigerian cities, and families as well as enhance economic activities. Ours is to make sure that Nigerians travel in safety and in comfort across cities where we have already taken our services.
"As you know, with Kano and Sokoto united on our schedules, we look forward to bringing Plateau and Borno states on board just as are also putting up infrastructure to make sure that Edo state is also connected through the Benin Airport.
"We believe that with enhanced air transport services, Nigerians will interact more among themselves, and travel more to enjoy the beauty that nature has blessed this country with. So flying from Lagos and Abuja, we shall be able to connect Kano and Sokoto and even create opportunities for people in these states to also connect states in the southeast. So, it is about expanding possibilities and uniting Nigerians more", he said.
Already, the operational offices of the airline at the Kano and Sokoto airports have been fully activated and awaiting the inaugural flight.
Nurturing 30 New Entrepreneurs: Dangote's Commitment to Nigerian Economy
The Dangote Cement Plc has announced the creation of 30 new entrepreneurs who are expected to help bolster food production and ginger the Nigerian economy.
The new Chief Executives were graduated weekend following a three-month intensive entrepreneurial and skill acquisition training on poultry farming and business.
President Bola Ahmed Tinubu had advocated for Public Private Partnership during his speech at the recent Nigerian Economic Summit in Abuja.
Speaking at the graduation ceremony, Plant Director of the Dangote Cement Plc at Obajana in Kogi State, Mr. JV Gungune, said the company's entrepreneurial scheme is a demonstration of the huge corporate support for government and Nigeria.
The Plant Director who was represented by Engr Wale Adisa, A Senior General Manager, said the President and Chief Executive of the Dangote Group, Alhaji Aliko Dangote is one Nigerian who is passionate about Corporate Social Responsibility and philanthropy.
Mr. Gungune told the beneficiaries to leverage on the advantage conferred on them by the scheme, adding that it was a golden opportunity to be selected, trained and empowered.
He said the scheme has become necessary as it was not possible for the company to employ every one.
He said the development was as a result of the peaceful co-existence between the company and the communities, harping on the need for the youth to become skilled, and that the era of certificate was gone.
Representative of the Ministry of Mines and Steel Development in Kogi State Engr Ezekiel Olufemi Olaitan said the government was happy by the series of economic, social activities, and opportunities created by the Dangote Cement Plc, urging the beneficiaries not to disappoint Nigerians.
In his welcome address, General Manager, Community Relations and Special Duties, Mr. Ademola Adeyemi, said the scheme was part of the company's Corporate Social Responsibility (CSR), adding that, of the 30 participants, 18 were females and 12 were males.
He said the training was conducted by the Kogi State College of Education (Technical), Kabba, on behalf of Dangote Cement Plc.
According to him: "The Dangote Cement PLC, Obajana Plant Empowerment Scheme among many other is aimed at transforming the youth to be skill full, self-reliant and independent. This year 2023 Youth Empowerment Scheme was particularly designed at developing selected youth from each community to be not just farmers in poultry (layer: egg) producer's but Entrepreneurs in Agricultural Business.
"The programme is equally aimed at eradicating some of the social vices and poverty that have eaten deep into our communities."
Representative of the Provost of the Kogi State College of Education (Technical), Kabba Dr. Micheal Udoma said the Dangote Cement Plc had empowered the beneficiaries by starter packs, Bags of Grower feed, battery cages, hand gloves, a 60 litre basin, a hand bowl and point of lay birds.
Head of the Dangote Academy, Engr Wale Adedeji advised the new entrepreneurs not to rest on their oars, but keep reinvesting and profit, saying they can learn from the founder of the company, Alhaji Aliko Dangote.
Speaking, the Bajana of Obajana, Dr Idowu Isenibi, expressed optimism that the programme will help in radically transforming the economy of the Obajana communities and Kogi State in general.
In the same vein, the Olu-Apata Dr. Frederick Balogun, thanked the company for the programme, and urged participants to keep investing in the business.
Representative of the graduands, Mr. Alolo Victor Eleojo said they have registered a Cooperative Society to help buoy their financial standing.
"As new CEOs, we have formed a cooperative and do the necessary registrations," he added.
He promised not to disappoint the Dangote Group and Nigerians as a whole.
Earlier in the cause of the programme starter packs comprising of medications, vitamins, cages, feeds, 50 layers and poultry farms equipment were given to each of the 30 graduands.
After slashing cement price, BUA 'silently' increase sugar, flour, pasta prices
Days after announcing the reduction of ex-factory price of cement, BUA Group has silently increased prices of foods, particularly a bag of sugar, a bag of flour and a carton of spaghetti, investigation has revealed.
The management of one of the giant cement coy in the country had on October 1 announced the reduction of ex-factory price of the product to N3,500 per bag.
But the announcement was greeted by public outrage as dealers were battling to enlighten the customers that the reduction in price affects only companies that supply the commodity directly from the factory.
However, investigation by this newspaper had revealed that BUA Foods had silently increased prices of its sugar, flour and pasta products.
Our reporter, who went round some shops at the popular Singer Market in Kano state, the biggest grocery market in Northern Nigeria, observed that price of a bag of sugar, flour and a carton of spaghetti had increased by N3,500, N2,000 and at least N1000 respectively.
Checks by this newspaper had shown that while the price of sugar was recently sold at N44,000 per bag, spaghetti N8,100 a carton, and a bag of flour at N32,500, the commodities are now being sold at N47,500, N9,000 and N34,500 respectively.
NBC Issues Final Warning to Arise Television Over Alleged Violation of Broadcasting Code"
A dealer of BUA Foods in Kano told our reporter that the increase in prices of the commodities followed immediately after the company announced the reduction of its cement product.
According to the dealer, who preferred to remain anonymous as he was not authorized to speak, they observed the increase in the prices this week.
He confirmed that the price of a carton of IRS Spaghetti, a pasta product of the BUA Foods, is now N9,000 a carton at company price, while it was recently sold at N8,400 a carton, an indication that it could reach up to N10,000 at retail price.
He also said "We have observed the increase this week. Price of a bag of flour has now gone up to N34,500 as against the N31,000 to N32,000 sold last week. About N2,000 has been increased on a bag of flour and it is a company price.
" About sugar, there is no standard price but it is sold up to N48,000 now in the market. It was N44,500 to N45,000 per bag just last week. Somebody told me that he is selling it at N46,500 per bag.
"We have just received the increased from them this week. They normally communicate to use via phone. They will just send us messages if there is any development.
"I also want to tell you that all these prices are company prices," he stressed.
Our investigation also revealed that price of the commodities had already gone up at retail outlets in the Kano city.
A grocery shop operator, Mustapha at Karkasara are of Tarauni Local Government area, informed our reporter that he sells a bag of 50kg sugar at N49,000 after he supplied it at N47,500 from the dealers.
Another shop operator, Ibrahim Musa in Fagge Local Government said he had observed increment in price of sugar, flour and IRS spaghetti.
According to him, he purchased a 50kg bag of sigar at N48,000, adding that he supplied a bag of flour at N33,000, while IRS spaghetti was N9,100.
He lamented that despite the increment, he is recording low market as according to him, it had taken him about two weeks to finish a bag of flour.
"You know there is no money in the hand of people. Before i purchased this flour, the one supplied last time took almost two weeks before it finished.
"We are recording low market. People are in poverty and the patronage is low. We just thank God and pray for His intervention," Ibrahim said.
Customers also expressed displeasure over the recent increment of the BUA food products.
Hajiya Iyami, one of the major customers that purchase bags of flour for baking Gurasa, a locally-made staple in Kano, lamented that the price of the product has kept rising anytime.
She said the price is rising day in day out from three years ago, recalling that the price had skyrocketed from just N5,500 per bag.
"Ironically, this price of BUA plower has skyrocketed just three years ago when a bag of flour was just N5,500. The price keep going higher
"I have now bought a bag of flour at N34,500. We therefore call on the BUA company to reduce the price of flour as we heard that he reduced the price of s bag of sugar," Iyami appealed.
Efforts to reach BUA company proved abortive as a major dealer in the state, who was speaking on behalf of the company said he could no longer speak now.