45 Years After Pan-African Speech That Shook The West.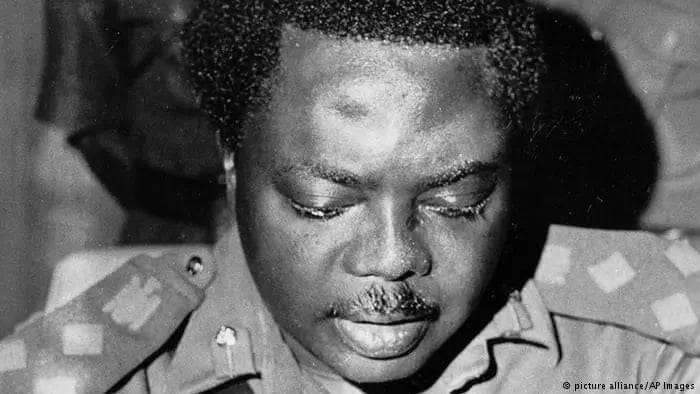 On January 11th 1976, Nigeria's Charismatic Head of State General Murtala Muhammad addressed a gathering of the Organisation of African Unity in Ethiopia Addis Ababa.
The famous "Africa has come of age" speech was perceived as a total declaration of war by General Murtala's regime against the west.
But for Pan African's and fellow ideologues like President Idi Ameen of Uganda sees it as a Clarion call to emancipate the African continent from dungeon of remnants of colonialism.
Monthly Wages, Not Meant For African Families-Shehu Sani
But General Murtala could not live to see his dream of Pan Africanism ,he was assassinated on February 13th 1976 ,a month after delivering the speech.
Even the Generals wife was rattled with her darling husband's speech,Late Malam Aminu Kano has to send a later to Late General Murtala,but as destiny would have it General Muhammad died after a month.
Some experts attributed his assassination to the speech.
Murtala declared a total war against racism and apartheid in Africa.
"Mr Chairman when I contemplate the evils of apartheid my heart bleeds and iam sure the heart of every blooded African bleeds"
Obasanjo Was appointed Head Of State Against His Wish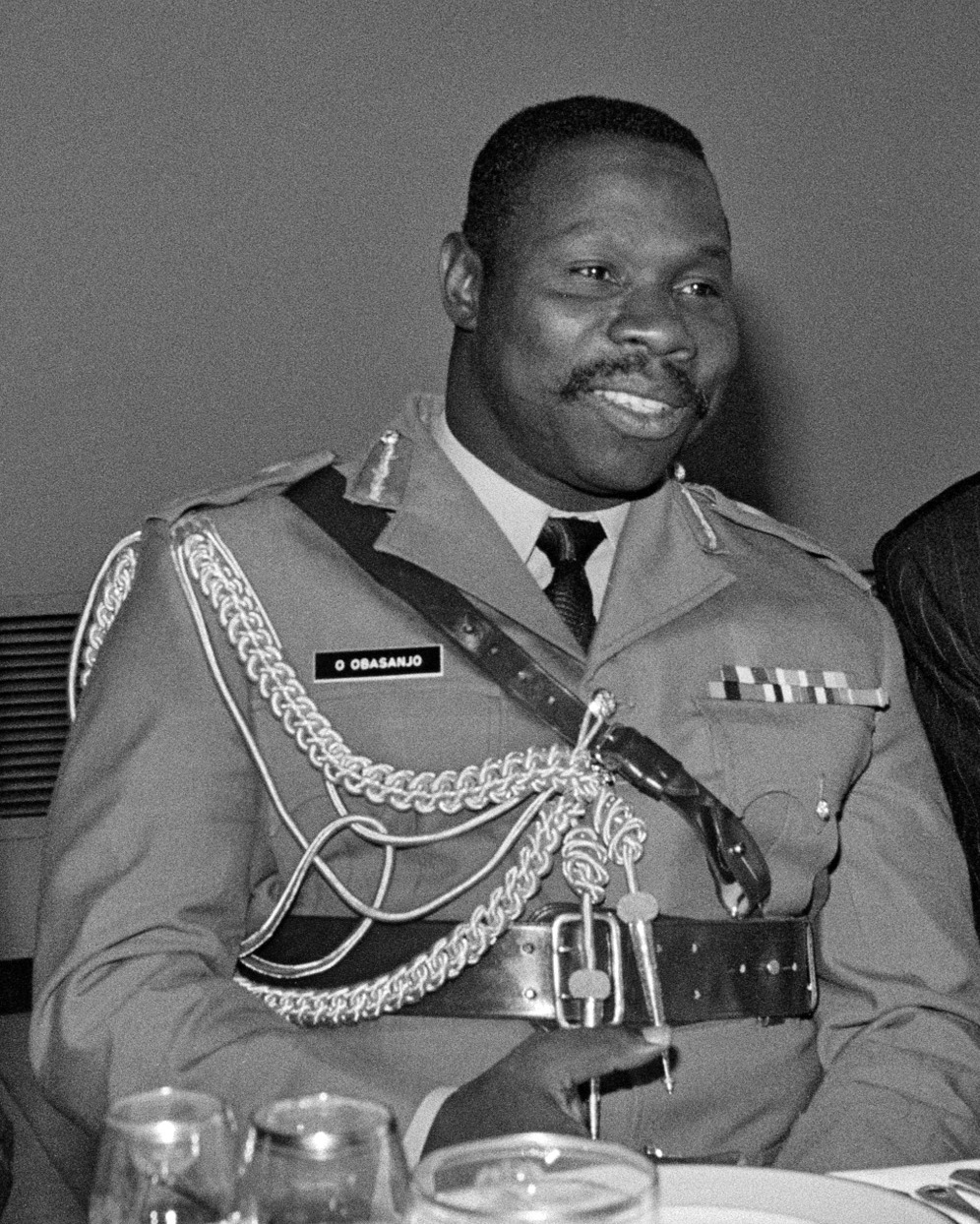 Former Nigeria's military Head of state and Two-term elected President of Nigeria, General Olusegun Obasanjo was installed Nigeria's Head of the state against his wish.
The Admission was made by General Olusegun Obasanjo when he assumes office as 4th military Head of state on the 14th of February 1976.
''The destiny of the nation was bestowed on me against my personal wish and desire, for me personally, this is one of the saddest moments of my life''
According to some accounts of Nigeria's military history traced by the Nigerian Tracker, Lieutenant General Obasanjo was not that power-drunk like other military officers when General Murtala Muhammad was assassinated for him to take overpower.
Obasanjo Was Nigeria's Army Senior Engineer and attended Islamic School
With the nature of some Nigerians especially the military echelon whose lust for power has led to all sorts of unprofessionalism in the military, terrified Obasanjo was planning to leave for Abeokuta his hometown of Ogun State after the burial of his erstwhile friend and charismatic general Murtala Muhammad in Kano.
General Obasanjo was said to have informed his favorite daughter Iyabo Obasanjo Bello to prepare and go straight to Abeokuta when the Supreme Military Council pressurize General Obasanjo to accept the offer and become Nigeria's Head of state after one of the most unpopular military coups in the Nigerian History of Nationhood was not successful.
That feat achieved by General Olusegun Obasanjo and fulfilling the promise made by Late Murtal Muhammad of returning Nigeria to civilian rule on the 1st of October 1979 endeared him to the international community to date.
It only General Olusegun Obasanjo and General Abdulsalami Abubakar that have achieved the feat of relinquishing power to civilians in 1979 and 1999, while other military Heads of state like General Ibrahim Badamasi Babangida and Major General Muhammadu Buhari were forced out of power by voluntary resignation and by a place coup.
General Abacha died when he was on the path of transforming from a military ruler to a civilian Head of state, General Gowon was overthrown on the 9th anniversary of the coup that brought him to power while Ironsi's six-month stint was short-lived on July 29, 1966.
1983 COUP: How Shagari Was Overthrown 37 Years Ago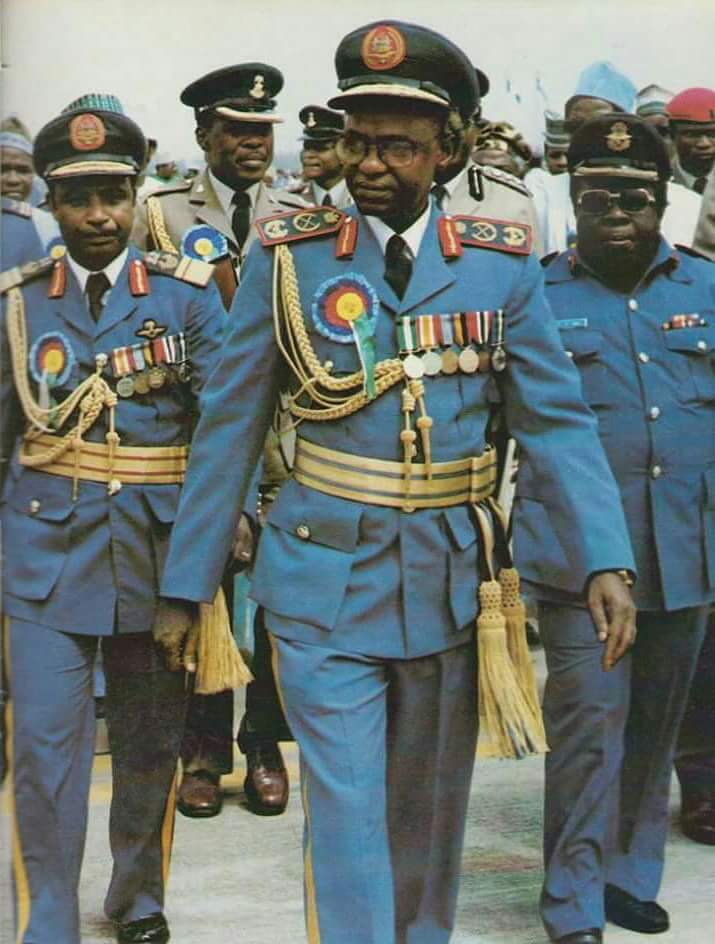 Abbas Yushau Yusuf
On 31st December 1983, the Nigerian military truncated the first democratically elected government of Nigeria  Under the Presidential system of government led by Late President Shehu Usman Aliyu Shagari.
On that Friday night, all was not well with Nigeria's first civilian President as mutiny was been engineered by top echelons of the military after a 4-year break from 1st October 1979 to December 31st, 1983.
Late flamboyant Nigeria's President Shehu Shagari has prepared himself well after attending some state functions at the state House Ribadu Road, he went in the evening to Obalende to perform Jumuat prayers.
Unknown to President Shehu Shagari that was his last Friday prayers as the duly elected President of Nigeria, presiding over the affairs of the most populous black nation on earth.
1983 COUP : Shagari was taken to Nassarawa
President Shehu Shagari after performing the Jumaat Prayers went straight to the council chambers of the president close to his office to record the New Year Speech as Nigerians set to wake up for the New Year of January 1, 1984.
Shagari planned to address the Nation from the Federal Capital Territory in Abuja from where he will have some rest before preparing to come back to Lagos to look ahead of governing Nigeria in his remaining three and half years in office, But Shagari runs out of luck as he was overthrown in less than 24 hours through Brigadier Sani Abacha's Soft spoken voice on Radio Nigeria.
Before the coup, former President Shehu Shagari has called all interested parties to assure him of their loyalty to his administration as he has been hearing rumors of the military take over.
Shagari Narrated in one of his detailed autobiography Beckoned to serve how on a state visit to Plateau state to Inaugurate the National Institute for policy and strategic studies course in Kuru Jos Plateau state, the governor Chief Solomon Daushep Lar intimated him that Mr. President I have a serious matter to discuss with you, the president with his attentive ear said what was that.
Solomon Lar continued, Mr. President my wife is having a sister which her husband is a top military officer and he has developed the habit of not coming back home early, the wife pressurized him why is he coming back home late, he told her that they are planning a coup, but she should not tell anybody, on learning she came to tell my wife that we have to be very conscious of an impending rebellion by the military.
Governor Solomon Lar added that Mr. Prseident I have been planning to table the matter before the state's security committee in which the GOC 3rd Division Major General Muhammadu Buhari is a member but I felt that you are in the best position to know as the commander in chief.
Shagari told Governor Solomon Lar that if he went back to Lagos he will ask the Director General Of The NSO Umaru Shinkafi to call General Buhari about the issue.
When Umaru Shinkafi confided in General Buhari about the matter he told him that he doesn't know anything about it and if he is no longer trusted he will resign his commission from the Nigerian Army.
Shagari said when he was taken to a safe side when the mutineers approached state House to arrest him in the Peugeot Salon car in the early morning of December 31st, he heard the voice of Brigadier Sani Abacha announcing the overthrow of his government in a military coup.
The Vile Face Of Colonialism- A Response To Professor Bruce Grilley's Article On Colonialism
By: Abdulhakeem Abdulhakeem,
"It would be an act of the most brazen to weigh the paltry social amenities provided during Colonial epoch against the exploitation, and to arrive at the conclusion that the good outweighed the Bad"
~~~~~
Walter Rodney
On a reading mood Wednesday, at exactly 4pm, I bumped into my Uncle's Books shelve, who happens to be a graduate of Business Administration from Federal Polytecnic Ede, Osun State and found an article titled "The Case for Colonialism", written by Professor Bruce Gilley, a teacher of Political Science at the University of Portland, Oregon. Like a chap who fall in love with a beautiful lady at first sight, I fell in love almost immediately with the title of the work, thinking have gotten a resourceful material that would add value to me. But I was shocked reading the arguments raised by a Modern Professor of Political Science on Colonialism in this century. Having been dissatisfied with the various argument raised by Bruce Gilley in the article, I decided to take it upon myself as a student of history living in Africa to respond to the unforgivable blunders committed by him(Bruce Gilley). Though I learnt he has agreed to withdraw the article from the Journal that published it, after the Editor of the Journal receives death threat from various Africans living in Europe and some progressive Whites for defending Colonialism.
Here are the blunders of an argument presented by Bruce Gilley.
First; Bruce Gilley argues that it high time to reevaluate the notion that Colonialism is always and everywhere a bad thing. Because a post colonial era have left the third world Nation's with greatest human Sufferings.
Secondly; Bruce Gilley argues that for Africa to come out of the present calamities they found themselves, they need, with immediate effect, to unlock the colonial benefits again.
The Neglect Of History In Nigeria And Its Consequences In Nation Building
Thirdly; Bruce Gilley argues that the government of the third world Nation's especially Africa needs to replicate as far as possible the colonial system of governance of their past- as successful countries like Singapore, Belize and Bostwana did.
Lastly, Bruce Gilley argues that some region in Africa should be allow to be recolonize by European countries if they must advance.
A mere Scan reading of the above argument raised by Bruce Gilley would no doubt make it difficult for you to decipher that he belongs to the unrepentant family of bourgeoisie Scholars who still take pride from defending Colonialism. Beginning with the first argument of reevaluating the notion that Colonialism is always and everywhere a bad thing, simply because a post colonial era have left the third world Nation's with greatest sufferings. Speaking strictly as an Afrocentric and a growing pro-Marxist student of history, I strongly believed that there is absolutely nothing to reevaluate about such Notion as Colonialism is always and will always remain bad every now and then. As Albert Memmi rightly put it; 'The most serious blow suffered by the colonised is being removed from history and from the community'. Without any iota of doubts, Africans were robbed of their history and almost totally taken away from their communities even though they still lives in it during the era of Colonialism as a stranger lifestyle was forcefully forced upon them. Therefore, talking about the reevaluation of such Notion is tantamount to being a patient in a Psychiatric hospital who needs the attention of a Psychiatrist. Bruce Gilley failed woefully to also think that such needs reevaluation simply because a post colonial era has left third World Nation's in greatest human Sufferings. No one needs an Oracle to tell that, the present sufferings we see in third World Nation's are the by-product of Colonialism and the continuous exploitation of the third World Nation's by the metropoles through their unpatriotic indigenous agents in the various third World Nation's. So, it would be of immense benefit to advance intellectualism to throw this argument of Bruce Gilley to the never- retrieve dustbin of history.
Furthermore, in view of the second argument, that if Africa is to come out of the present calamities they found themselves, they need, with immediate effect, to unlock the colonial benefits again. Laughable as this assertion was, I still found it difficult to believe that a supposed Professor of Political Science could be as myopic as this to see that there is no benefit whatsoever attached to Colonialism, that one can unlock. Africans can't forget so easily how Colonialism relegated them to slaves in their own land and their Kings to Puppet. We can't forget so easily how our economic freedom was taking away from us and forced into engaging in economic activities that serves strictly the interest of the metropoles. We can't forget so easily how 'Colonialism made Africa Political states lost their power, Independence and meaning, irrespective of whether they are big or small empires'. Is this vile of a benefit Bruce Gilley wants us to unlock?. Let it be known that the rail ways, Roads, hospitals and Schools built by the Colonialist are contradiction in themselves as the bulk of it services was for the sole benefit of the metropoles. Have listened to some of my colleagues in the Physical and Natural Sciences argues that; if not for Coming of the Whites to Africa, Africa would have been so backward. But I often try to convince them that that is not the case, yet they seems to clinched to their beliefs strongly. Though I won't blame them anyways, because they lived in a World where 2+2 is always 4 irrespective of the time and space. The argument whether there is any benefit to be unlocked from Colonialism needs not to be prolong as it's obvious that 'Colonialism had only one hand, and it was a one-armed bandit'.
The argument that government of the third World Nation's especially Africa needs to replicate the colonial system of governance of their past – as successful Countries like Singapore, Belize and Botswana did is highly bizarre. Though, I am not ripe enough to debunk whether Singapore, Belize and Botswana did replicate the colonial system of governance of the Colonialist before they were able to attain the height they are currently. But I believed I'm equipped enough to condemn such assertion because replicating the such system of governance is equivalent to embarking on a suicide mission. No reasonable government in the third world Nation's will replicate such system. Although, it makes sense to say that some government in Africa are now utilizing effectively the pattern of colonial political system. I am sure, that a Nigerian born in the late 20th century, now understand how our politicians uses the divide and rule policy effectively just to manipulate, exploit and distract the masses. An attempt to replicate fully the colonial system of governance will spelt doom for any Africa Countries that does that. Instead we should adopt a system which serves the interest of all and sundry, and also change our mindset towards building our Nation's, if we must attain a greater height.The argument of the unrepentant professor should therefore, be buried deep the ground beyond reach.
The last but the most senseless argument of Bruce Gilley was that some region in Africa should be allow to be recolonize by Advance European Countries if they must advance. This Statement proves beyond reasonable doubts that Bruce Gilley does not worth being in an intellectual environment, talk more of being called a Professor as it is clear that, he has lost the sympathy for humanity. It is highly painful, that a supposed Professor of Political Science sees sense in recolonizing a group of people on the basis of making them advance. One would have thought Bruce Gilley would hide his despicable way of thinking by not reaching this extent of unforgivable blunders. To talk about recolonizing a group of people in this 21st century is to be bizarre, historically ignorant and selfish, callous among all other odd adjectives. The recolonization of any region in Africa would be the disaster of all time, which I hope will never come true.
In conclusion, it is a great responsibility for all Africa student of history that are progressive in thought and believed Colonialism has done no good for Africa to quickly challenge fearlessly this despicable write up by a Supposed Professor of Political Science, Bruce Gilley, titled "The Case For Colonialism". And spread around the news of the horrors that Colonialism came with hundreds of years ago. So that the growing generation in Africa will have abundant work to read on the vile face of Colonialism and in turn, refused to be brainwashed by the likes of BRUCE GILLEY.
Abdulhakeem Abdulhakeem Wrote from the Department of History ABU Zaria.