Gombe Reshuffles Cabinet: Maigari, Now Commissioner for Education
Governor Muhammadu Inuwa Yahaya has sworn-in 2 new Commissioners and 4 Special Advisers.
The governor, who was speaking during swearing-in of the new appointees, announced a minor cabinet reshuffle for effective and efficient service delivery.
Those affected by the cabinet rejigging are; Hon. Dr. Aishatu Umaru Maigari from Ministry of Science, Technology and Innovation to the Ministry of Education; Hon. Maji Dauda Batari, who was moved from Ministry of Education to Ministry of Higher Education; Hon. Shehu Ibrahim Madugu, from Ministry of Energy and Solid Minerals to Ministry of Environment and Forestry; and Hon. Meshak Audu Lauco, from Ministry of Higher Education to Ministry of Information and Culture.
While the newly sworn-in Commissioners are: Hon. Sanusi Ahmed Pindiga from Akko LGA who was deployed to the Ministry of Energy and Solid Minerals and Hon. Andirya Abishai Moljengo from Kaltungo LGA posted to the Ministry of Science, Technology and Innovation.
Nigeria's Dangote Refinery Will Transform our Downstream Sector, Says Ghana Petroleum Authority
The Special Advisers are: Abdulkadir Mohammed( Inter governmental affairs); Ahmed Shuaibu Gara (Information Management and strategy); Shuaibu Iliyas Kashere. (Civic engagement); Mohammed Bello Suleiman ( Legislative Matters).
Governor Inuwa assured the people of Gombe State that his administration will remain unwavering and committed towards creating an enabling environment to foster development.
"our administration will consistently match words with action both in policy formulation and implementation as evidenced from the numerous programs and projects we achieved in the past three and half years.
"We shall continue to do our best in order to deliver on the mandate given to us by the people up until the very last day of this administration", he vowed.
Political Turmoil Unfolds in Kano as APC's Claims of Victory Snatching Raise Concerns-Magaji
KANO, Nigeria- In the aftermath of the March 18, 2023 elections in Kano, a concerning political landscape has emerged, with the All Progressives Congress (APC) and its supporters steadfastly asserting claims to victory and raising fears of potential violence.
Since the period before and after the March 18 elections, the APC and its supporters have been vocal in their assertions of victory, employing various tactics to secure their position. The intensity of these claims has sparked worries that the APC is, in every sense of the word, provoking violence more than any other political group in Kano.
Muhuyi Magaji Rimin Gado, the chairman of Kano Public Complaint and Anti-Corruption Commission, voiced these concerns in response to the ongoing political turmoil, particularly its impact on the judicial process. Speaking exclusively to Hausa Channel DCL Hausa, Chairman Rimin Gado, expressing his opinions as an individual and a bona fide Kano citizen, highlighted the potential for increased violence stemming from the APC's persistent claims.
In his statements, Chairman Rimin Gado underscored the delicate nature of the political climate, emphasizing the need for lawful means in resolving electoral disputes to avert potential violence.
The historical context, as outlined by Chairman Rimin Gado, includes the 2023 elections where the Nigeria New Progress Party (NNPP) emerged as the victor. Despite a fair and square victory, Chairman Rimin Gado noted instances where the former ruling party, APC, mobilized individuals wielding machetes. These individuals attempted to snatch and destroy ballot boxes won by NNPP, with the intent of forcing the election into inconclusiveness. These efforts, however, ultimately did not succeed.
As Kano grapples with the aftermath of contested election results, the concerns raised by Chairman Rimin Gado shed light on the need for a peaceful resolution and the preservation of the integrity of the electoral process in the region.
Amidst the political turbulence in Kano, Muhuyi Magaji Rimin Gado, the chairman of the Kano Public Complaint and Anti-Corruption Commission, has not only expressed concerns over potential violence but also issued a strong call for the preservation of judicial independence and impartiality.
The call for judicial independence comes at a critical time when political tensions are high, and the integrity of the electoral process is under scrutiny. Chairman Rimin Gado underscored the importance of the judiciary in serving as a bastion of justice, ensuring that disputes are resolved in accordance with the law, free from undue interference.
Furthermore, he highlighted the need for transparency in the adjudication of cases related to the contested election results in Kano. Chairman Rimin Gado asserted that an impartial judiciary would play a crucial role in fostering peace and stability in the region, allowing for a democratic process that upholds the rights and will of the people.
NNPC Limited GCEO Urges Restraint from Issuing Congratulatory Messages on His Reappointment
The Group Chief Executive Officer (GCEO) of Nigerian National Petroleum Company (NNPC) Limited, Malam Mele Kyari, expresses gratitude to Stakeholders and Nigerians for their enthusiasm regarding his reappointment by the President and Commander-in-Chief of the Federal Republic of Nigeria, Asiwaju Bola Ahmed Tinubu, GCFR.
Viewing this reappointment as a renewed challenge, Kyari is committed to stabilizing the oil industry and enhancing service delivery for increased revenue.
The GCEO humbly appeals to stakeholders in the oil sector and fellow Nigerians to support the company under his leadership to ensure the success of its mandate.
Consequently, the GCEO kindly requests all parties concerned to refrain from issuing congratulatory messages on his reappointment. He emphasizes the necessity for all stakeholders' commitment to drive revenue growth and fortify resilience for the naira and the economy.
Olufemi O. Soneye
Chief Corporate Communications Officer
NNPC Ltd.
Abuja
29 November 2023
Professor Rosemary Ogu Advocates for Men's Support in Ensuring Safe Deliveries for Pregnant Women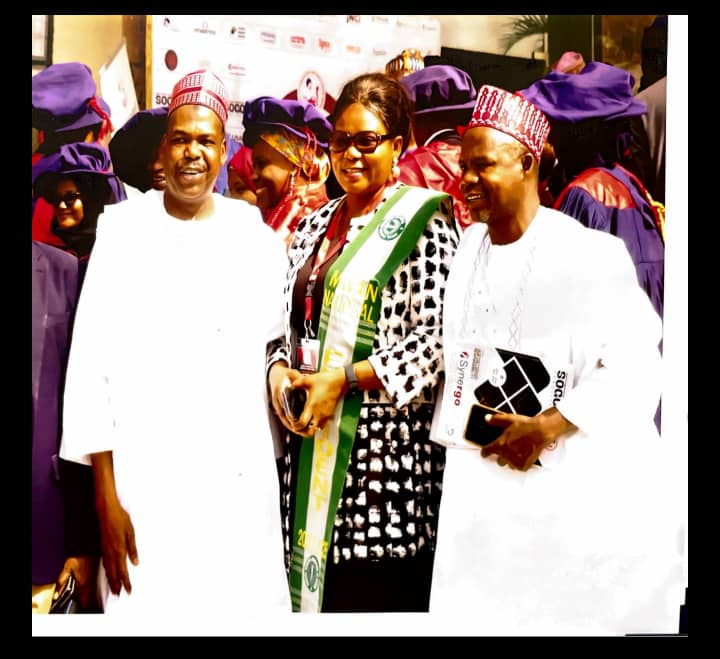 Professor Rosemary Ogu, the National President of the Medical Women's Association of Nigeria (MWAN), addressed the challenges facing pregnant women in Nigeria, emphasizing the need for comprehensive antenatal care to prevent maternal deaths. Speaking during the Society of Gynaecology and Obstetrics of Nigeria (SOGON) Annual General Meeting in Kano State, Professor Ogu stressed that women should not lose their lives during childbirth, urging men to support their wives in registering and attending antenatal care.
Highlighting the significant role men play, Professor Ogu expressed concern that some women are unable to seek antenatal care due to a lack of permission from their spouses. She underscored the importance of men supporting women to ensure that all pregnant women have access to antenatal care. The emphasis was on delivering in health facilities with trained healthcare providers to reduce maternal mortality significantly.
In addressing the issue of home deliveries, Professor Ogu acknowledged that while some home deliveries go smoothly, complications can arise, leading to tragic outcomes. She urged men to encourage their wives to deliver in safe health facilities, emphasizing the potential for a substantial reduction in maternal deaths through this approach.
Discussing the financial barriers to seeking healthcare, Professor Ogu acknowledged the cost challenges faced by some women. She commended efforts by certain governments, particularly in Kano State, citing the Health Contributory Scheme led by Dr. Rahila Muktar as a positive initiative. However, she called on the government to further alleviate the financial burden, advocating for improved health insurance to benefit women, children, and families seeking healthcare.
In her role as the National President of MWAN, Professor Rosemary Ogu outlined strategies to enhance healthcare services in Nigeria. She emphasized collaborations with various stakeholders, including government entities and non-governmental organizations, to uplift healthcare standards across the country.