Senate Commends Dangote-Sinotruk's Investment in Vehicle Assembling in Nigeria
Chairman, Senate Committee on Industry, Senator Tokunbo Abiru has commended Dangote Sinotruk West Africa for its impressive commitment to Nigeria's economic development through investment in a vehicle assembly plant in the country.
According to him, with Dangote Sinotruk West Africa, Nigeria's path to self-reliance in vehicle assembling has begun. "We want to encourage the company to continue to see how best to make Nigeria self-reliant in vehicle assembling as well as encourage other players in the value chain to also get on board", he said.
Abiru said in as much as members of the Senate Committee on Industry  would prefer a factory setting where almost everything are manufactured here in Nigeria, "we believe what Dangote Sinotruk have in place is a very good starting point towards achieving backward integration in vehicle assembling in Nigeria."
He stated: "What the company is doing is one of the ways you can advance the economy of this country. The company has a production line that assembles trucks that are needed for economic activities in Nigeria. For us in the Senate, this is a very good starting point. Our desire is for Completely Knocked Down parts (CKDs) to be manufactured here in Nigeria.
Queen Elizabeth Dies At 96 ,Outlived 14 Nigerian Leaders Since 1960
"The Dangote Sinotruk plant will assist the government to preserve foreign exchange that would have been used to imports trucks into the country. The company is also providing employment to many Nigerians. What we need on the part of government is to continue to support the company to grow," Abiru added.
In his remarks, Group General Manager, Dangote Sinotruk West Africa Limited, Hikmat Thapa, thanked the Senate Committee members for taking out time to tour the vehicle assembly plant.
Thapa said the company seeks to meet the growing demand for the automobile industry required for logistics, construction, food & beverage industries in Nigeria to support the government's efforts to boost economic development across the country.
In his presentation to the Senate Committee members, Assistant Manager, Sinotruk West Africa, Engr. M.J Kogis disclosed that to support the Federal Government's backward integration drive for Nigerian products, the company is planning a project expansion to enhance value addition and increase local inputs to 40 – 60 per cent within West Africa.
According to him, Sinotruk has installed capacity to assemble and produce 15 – 16 Trucks per shift, equivalent to 10,000 trucks annually, adding that this project aims to generate about 3,000 job opportunities across Nigeria. He added that the company has expanded its original structure to create welding and paint lines to fabricate various truck cabins.
"Aside from creating an 'All-in-one' complete assembly system, this expansion project enhances the local content of CKD operation. Dangote Sinotruk West Africa Limited is the only company with CKD capabilities in West Africa.
The quality products of Sinotruk are of high standard which are reliable and adaptable to any environment, enabling them to stably serve our customers in various climatic environments, working sites, and operational conditions of different countries", he said.
Kogis identified lack of foreign exchange and unhealthy competition with automobile companies evading government policies and regulations without proper certification for CKD assembly as some of the challenges confronting the company. "Certified automobile companies tend to run at a loss when placed on the same platform of expenditure", he added.
He urged the Federal Government to review and implement favourable policies towards the development of automobile companies in Nigeria. He also called on the government to provide grants and financial aid through the Bank of Industry (BOI) and direct forex allocation from Central Bank of Nigeria (CBN) for the opening of Letters of Credit (L.C.)
Speaking on importance of Dangote Sinotruk on Nigeria's economic development, Kogis stated: "Dangote Sinotruk West Africa Limited as a Joint Venture aims to play a strategic and key role in the manufacturing and assembly industry to develop trucks to serve the various logistics needs of the populace. With this goal in mind, we are structured to provide employment opportunities to the masses in line with Dangote Group objectives as well as improve local automobile industry and promote the economic development in Nigeria."
He said the company has the responsibility to assemble and produce a full range of commercial vehicles covering Heavy-Duty trucks, Medium-Duty trucks, Light Trucks, and other semi-trailers, etc.
He added that company provides employment opportunities to Nigerians, improves the local automobile industry, adds equipment base and achieves technological advancement in Nigeria to promote the economic development in Nigeria
Arewa Oil and Gas Takes Center Stage: AROGMA's New Chairman Assumes Leadership in Grand Kano Unveiling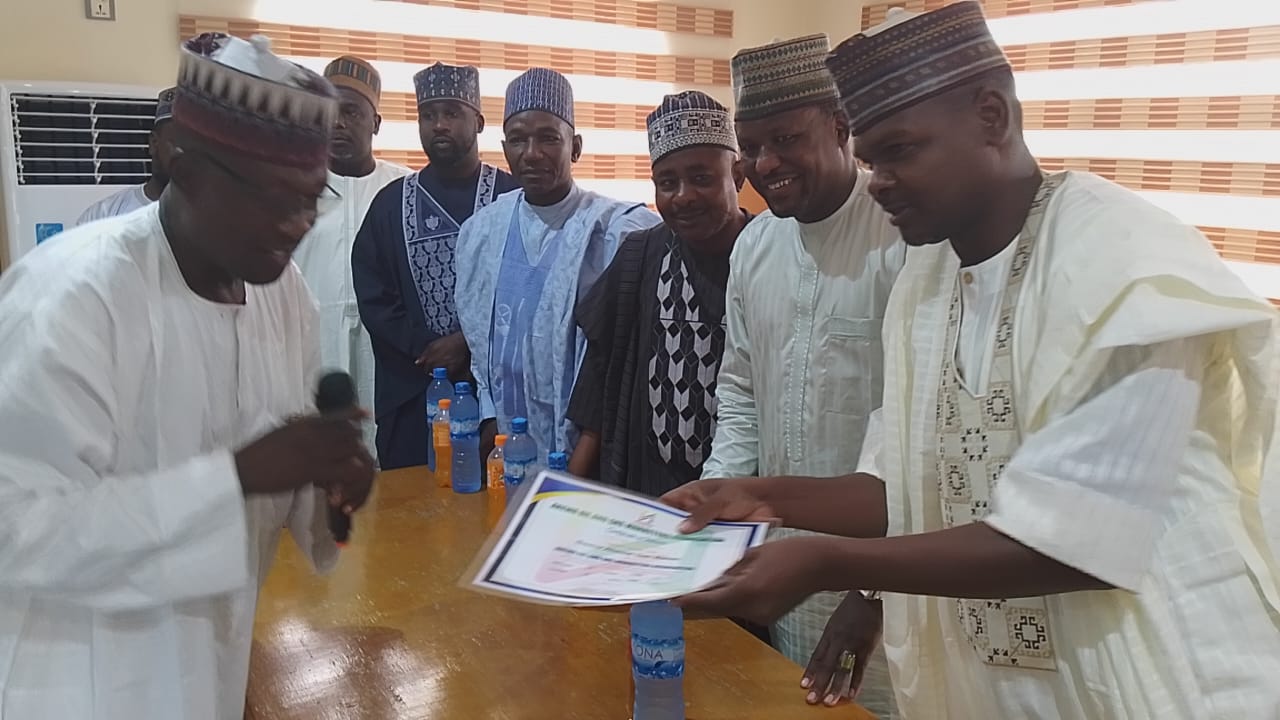 Kano – The Arewa Oil and Gas Marketers Association (AROGMA) marked a momentous occasion as it unveiled its new leadership and officially launched its operations in a grand ceremony held in Kano.
Dignitaries, members, and enthusiasts from across Nigeria converged to witness the historic event, which saw the inauguration of the association's new chairman and the beginning of an exciting chapter for the oil and gas sector in the region.
Bashir Danmalam, a prominent figure in the industry, assumed the prestigious position of the Chairman of AROGMA during the momentous event. As he was presented with the certificate of leadership, an air of enthusiasm and anticipation filled the venue.
The ceremony drew a diverse crowd, representing all walks of life and various regions of Nigeria. Attendees hailed from different parts of the country, showcasing the association's widespread influence and relevance. The event served as a platform for industry professionals, entrepreneurs, and stakeholders to come together and celebrate the growth and development of the oil and gas sector in the northern region.
"Today, we mark a significant milestone in the energy sector's history," stated Bashir Danmalam during his acceptance speech. "The establishment of AROGMA is a testament to our collective commitment to advancing the interests of the oil and gas industry in the Arewa region. With unwavering dedication, we will drive innovation, foster collaboration, and promote sustainable practices that will propel our sector to new heights."
The launch of Arewa Oil and Gas in Kano signifies a renewed focus on leveraging the region's vast energy resources and potential. As the new chairman takes the helm, expectations are high for the association to facilitate strategic partnerships, enhance industry standards, and contribute to the economic growth of the region.
The ceremony was a blend of tradition and modernity, capturing the essence of Arewa's rich cultural heritage while embracing the dynamic nature of the energy sector. The event marked not only the birth of a new era for AROGMA but also a commitment to shaping the future of the oil and gas industry in the northern part of Nigeria.
As attendees departed the ceremony with a sense of optimism and enthusiasm, it was clear that Arewa Oil and Gas had set a promising course that would resonate across the entire industry landscape, making its mark as a key player in the region's economic progress
Arewa Oil and Gas Marketers Urged to File Annual Returns with CAC to Maintain Active Business Status
The Arewa Oil and Gas Marketers Association of Nigeria has issued a resounding call to all its members, urging them to promptly file their annual returns with the Corporate Affairs Commission (CAC).
Speaking at a press conference, the Chairman, Bashir Ahmad Danmalam, emphasized the significance of adhering to the CAC's regulations to ensure the active status of their businesses.
Failure to comply with the annual returns filing, as directed by the CAC, may result in the mistaken impression that a business is inactive.
Consequently, the CAC can change the status of a company or business to "inactive," leading to potential repercussions, including possible delisting.
Danmalam urged all registered entities, spanning from business names to companies and incorporated trustees to meticulously adhere to the CAC's instructions.
He reiterated that annual returns must be filed irrespective of whether the business is actively operating.
In line with the CAC's guidelines, entities will be required to pay a fixed statutory fee, the amount of which varies based on the type of business structure. Moreover, entities must avoid late filing to prevent incurring a penalty fee of 5000 Naira.
It is essential to clarify that annual returns are not taxes but rather submissions that are filed exclusively with the Corporate Affairs Commission.
Timely filing of these returns guarantees that businesses and organizations maintain their active status, safeguarding their standing within the CAC's database.
Transport Claims:IPMAN Threatens Legal Action
The Arewa Oil and Gas Marketers Association takes this matter seriously, recognizing the importance of compliance with the CAC's regulations to maintain the active status of their businesses.
Danmalam's call comes as a timely reminder for all members to fulfill their obligations promptly, ensuring the seamless continuation of their operations and legal standing in the Nigerian market.
The deadline for filing annual returns looms, prompting oil and gas marketers in the Arewa region to take immediate action to meet the CAC's requirements and safeguard their business activities
Introducing Korbit Dispenser Bottle with Automatic Electric Pump: Clean, Safe, and Affordable Water Solution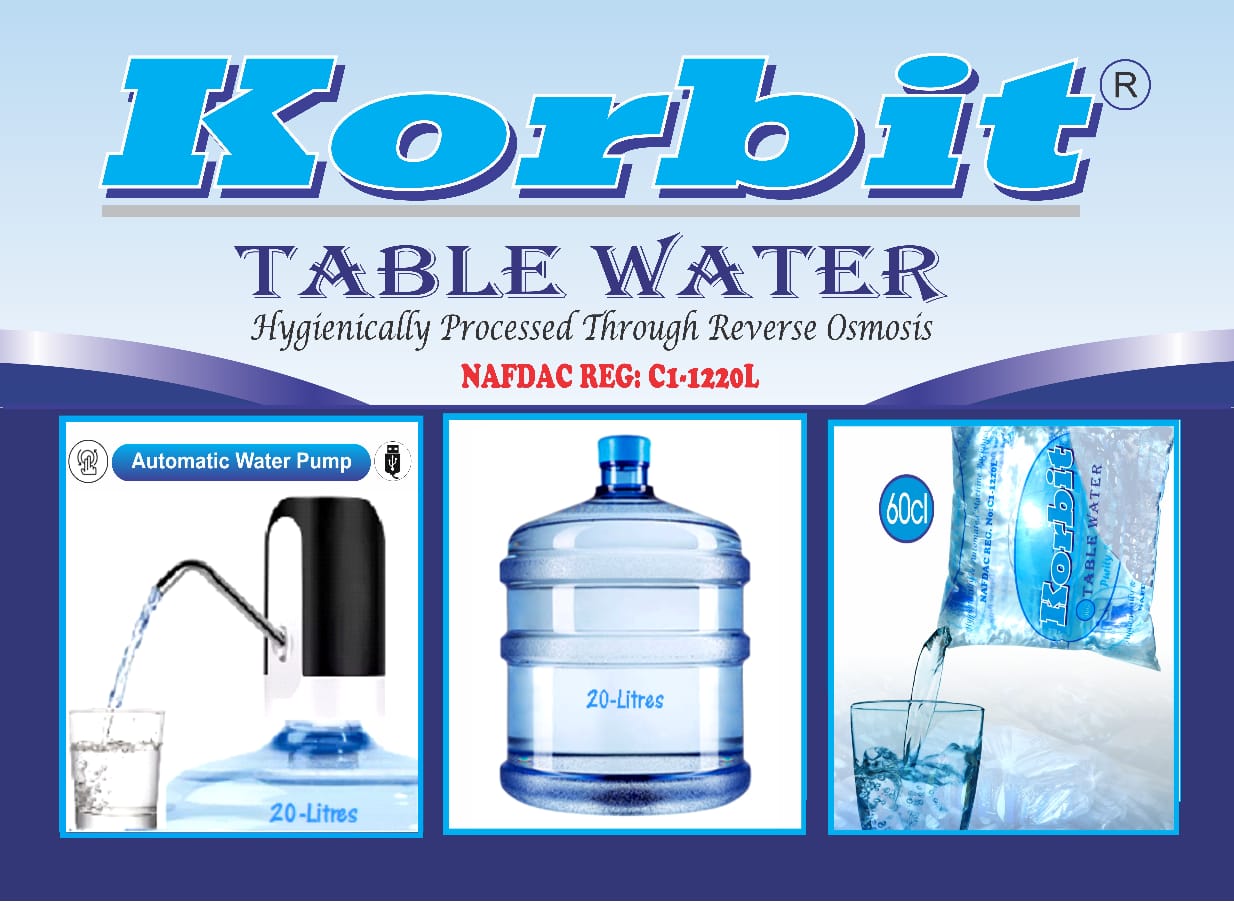 In a bid to provide clean, safe, and affordable drinking water, Korbit, a leading water company, has launched its new Korbit Dispenser Bottle with an automatic electric water pump.
The chairman of the company, Alhaji Garba Ahmed Ibrahim, made the announcement, highlighting the convenience and accessibility of this innovative product.
The Korbit Dispenser Bottle offers a rechargeable automatic electric water pump, ensuring hassle-free dispensing of water.
With this product, customers can enjoy the benefits of clean drinking water at their convenience.
The company has made it easy for customers to obtain the Korbit Dispenser Bottle by making it available at their depots and major supermarkets across the country, including Sahad Store, Best Medix, Sadaraki, DanAljanna, Jujin Labbu, and more.
To make a purchase, customers can either visit these locations or contact the company directly through the provided phone numbers: 08123172526, 08166665444, or 08096233122.
Korbit takes pride in its commitment to quality and safety. The company utilizes the latest modern technology to ensure that their water undergoes rigorous purification processes, including reverse osmosis, resulting in a hygienic and pure final product.
Korbit water is known for its soft and smooth texture, combined with well-balanced mineral content, providing customers with a refreshing and satisfying drinking experience.
One of the key advantages of choosing Korbit Table Water is its ability to maintain the integrity of flavors in food and beverages. When preparing special diets or enjoying a cup of tea, the purity of Korbit Table Water ensures that there are no unwanted impurities that could compromise the taste. With every sip, customers can taste the exceptional quality and purity that sets Korbit water apart.
In a world where access to clean water is crucial, Korbit is dedicated to delivering a reliable and affordable solution. The launch of the Korbit Dispenser Bottle with Automatic Electric Pump reaffirms the company's commitment to providing clean and safe drinking water for all.