2023 Presidency:CNPCCS Urges Northern Aspirants To Shelve Contest
Coalition of Northern People Congress and Civil Society (CNPCCS) has caution any Presidential Aspirant from Northern part of Nigeria to give way for other regions of the country to produce candidate come 2023 general elections.
This was contained in a statement signed and issued to newsmen by the National Publicity Secretary Comrade Abdullahi Musa Yalmo at Arewa House in Kaduna over the weekend after its first Congress led by interim Director General Comrade Bala Salihu Dawakin Kudu.
The statement revealed that, it is high time for Northerners to turn back on Presidential ambition 2023 for other regions to play their card for peace, unity, justice and fairness to all.
APC Crisis:Governor Ganduje May Decamp
In a statement by Abdullahi Musa Yalmo further revealed that, as long as Northerners want fairness and equity, they must forget contesting presidential seat come 2023 general elections.
Furthermore, the statement called on Government at all levels to give more attention to educating upcoming generation which has been the bedrock and pillar of fighting corruption, other related criminal activities engaged by youths as well as bringing peace, development and growth of any Nation. Saying, traditional leaders should be given full right to checkmating affairs of their subjects in ensuring safety of lives, considering their roles and positions as first authorities that deals with people from grassroot, thereby providing the needed security of lives and property of the people.
APGA, Obiano Not Comfortable With Soludo's Transition Committee List
By Obiagwu Chrys
Recall that Anambra State Gov-elect, Prof Charles Soludo released a full list of Anambra State Transition Committee on Thursday with Oby Ezekwesili as the chairman, earlier reported .
This list which lacked the involvement of top politicians in Anambra was rumoured to have been a strong evidence to prove that there is a serious fight between APGA, Obiano led administration and Gov-Elect Charles Soludo.
According to Anambra Political Analyst Eneh Victor, this fight is real and not a joke.
Soludo wins Anambra Governorship Election
Eneh Victor who is the founder of AIF MEDIA used his facebook handle to give reasons why he believed that APGA and Obiano led administration are not comfortable with the Transition Committee constituted by Prof Charles Chukwuma Soludo, Anambra state Gov-elect.
His post reads
Signs that both APGA and the outgoing administration are not comfortable with the list of the Transition Committee constituted by Prof Soludo and headed by Madam Due Process.
1. My friend Chinedum Onuegbu who is the SSA Media to the National Chairman of APGA did not report the list which Soludo media aide released this afternoon.
2. Machi Pius Igwe who is the chairman of Soludo TV crew but an Aguleri man attached to cabal did not also report it. When I checked his timeline, he was reporting of a pastor who was beaten to stupor by his church members.
3. Charles Ifeanyi Obi the SSA Media to Senator Victor Umeh has not also reported it. He is busy uploading pictures where Umeh was playing a table tennis.
4. My brother James Eze, the Chief Press Secretary to Gov Obiano has not praised the incoming for the list. He is in his wall uploading a picture (an art) of a lady with protruded ass.
5. Dominic Okagbue the SSA Media to Obidigwe reacted this way in his timeline. "Doing the right thing doesn't automatically bring success but compromising ethics always leads to failure."
6. Evang Chinedu Obigwe Akaekpuchionwa, the WhatsApp rabble rouser and Osodieme's mouth piece seems to be disappointed since the list came out. He suddenly went dumb.
7. Amb Izuchukwu Adichie, founder Obiano in us has logged out from social media.
8. Ifeanyi Aniagoh is in his wall mocking those who pushed him away during the campaigns and asking his Digi followers to tag them.
Tinubu's Tender And The Ordeal Of Osinbajo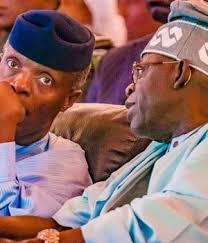 By Bala Ibrahim.
It is now official that the national leader of the ruling APC and former governor of Lagos sate, chief Asiwaju Bola Ahmed Tinubu, the Jagaba of Borgu, has formally tendered, or put himself forward as a contender with interest in the 2023 presidency.
Yesterday, Monday,10/01/2022, Tinubu told newsmen that he had visited and personally told President Muhammadu Buhari of his intention to contest the 2023 presidency. This has put paid, or effectively stopped the long time speculation about the ambition of Ahmed Tinubu, who said, "his ambition of becoming the president of Nigeria is a lifelong ambition".
Since yesterday, reactions have been pouring in response to the news, with some expressing disgust, while others are excitedly supportive. Amongst the early callers with negative comments is the critic and former minister of Education, Mrs Oby Ezekwesili, who said, "the APC leader Asiwaju Bola Tinubu, does not have control of Alimosho, the largest local government area in Lagos State, what more of the whole of Nigeria. Tinubu is being over exaggerated". Exekwesile said, "Tinubu was only able to deliver 86,897 votes out of the 650,000 registered voters in Alimosho in the last presidential election. Tinubu is believed to wield much power in the South-West. He worked for the election of President Muhammadu Buhari in 2015. Tinubu and his like in #APCPDP control only as much as we let them. Alimosho for example, is the largest local government in Lagos State with over 1.2million persons resident according to official census figures. In 2015, only about 650,000 of these people registered and obtained their PVCs. We must collectively tell the likes of Mr Bola Tinubu that the season of lowest common denominator of political leaders doing "turn-by-turn" incompetent governance of Nigeria is over. But the question is, "are the citizens ready to collectively do so?".
2023: Don't Dream About Muslim-Muslim Ticket,Christian-Christian Ticket,Northern Christian Elders To Tinubu, Others
While some disagreed with Ezekwesile on this, believing Tinubu is fit for the job, me thinks the collective wish of the citizens is not the biggest challenge at hand now. The collective challenge to face is the blow given to the speculated ambition of Vice President Yemi Osinbajo, who served as the Attorney-General and Commissioner of Justice of Lagos state, when Tinubu was the governor. Its an open secret that Osinbajo wouldn't have been where he is today if not for Tinubu's foresight and policy of inclusiveness. Osinbajo is undoubtedly interested in the Tinubu's tender.
But would that matter to the Vice President, who has been in the villa since 2015, enjoying the paraphernalia of power and listening to the whispers of the power mongers? In such capacity, he must be feeling extremely competent to continue from where his boss stopped. Confronted with such a choice, and sandwiched between it and the morals of personal loyalty to another boss, Osinbajo would be compulsorily compelled, or confused by the credo of the confidence of competence, to dare the godfather.
When asked by the press as to what he feels about the likelihood of the Vice President challenging him, Tinubu was evasive, saying that he would rather not discuss any individual now but himself. He said he has the confidence, vision and capacity to build on the foundation of the president and turn Nigeria better, just as he did with commitment and yielding zeal in Lagos State.
But that is not the speculation in town. Those rooting for the Vice President are saying it would be wrong of him to abandon his rumoured intentions to run for the president because of Tinubu, insisting that he should not allow his past to stand on his way to the future.
The biggest confusion is dependent on the body language of the President, because he holds the joker. Going by his conscious response to a question put forward to him at a recent media chat, PMB said he is not interested in who succeeds him. But if we go by his unconscious movements and postures, we can predict that the President is interested in a successor that would not become a liability to him and the country, particularly after putting a lot of efforts in the fight against the scourge of corruption.
The duo of Tinubu and Osinbajo have not been clinically cleared of the suspicions of financial wrong doings, at east in the public courts. In the periods he acted as President, news from the grapevine have indicted the Vice President of financial mismanagement and administrative recklessness; sins that have not been officially confirmed, but looking too true to be discarded, at least based on the subsequent display of disposition to such assignment by the President.
Tinubu said when he informed the President about his intention, the President asked him to go ahead, and he believes the President is a democrat who didn't tell him to stop chasing his ambition. But like Osinbajo, he has not been cleared of wrong doings, particularly in the area of cash and carry politicking.
Which is exactly where the leadership of the ruling APC needs to be upstanding. To ensure a proper checkmate against the evils of financial inducements, which Mr. President said he wants to eliminate, the party chairman and his lieutenants must be high-minded.
Fortunately, as a tested and trusted politician, whose major ambition is a second term in office, H.E. Mai Mala Buni, the Governor of Yobe state and the caretaker chairman of the APC, has been demonstrating decorum in this direction.
Ganduje won election not imposed-Garba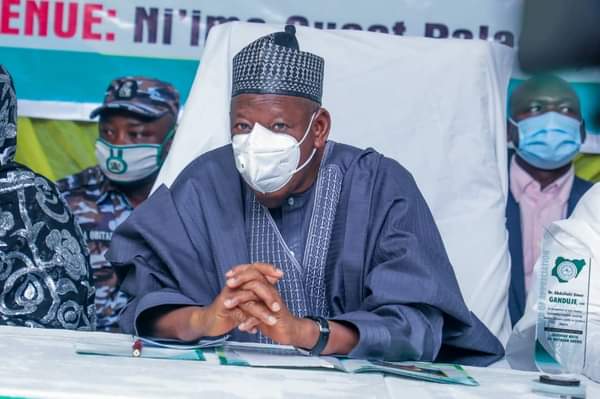 Kano state government has dismissed as untrue claim by the former governor of Kano state, Senator Rabi'u Musa Kwankwaso that Governor Abdullahi Umar Ganduje did not win the 2019 gubernatorial election but imposed on the people by powerful forces.
A statement by the commissioner for Information, Malam Muhammad Garba indicated that contrary to the assertion made in an interview with a national daily, Kwankwaso managed a well-organized election rigging network, particularly in the metropolitan local governments, where youth, mostly without even voters' card were engaged to perpetrate the act.
He said it was vividly clear that barely hours into the voting, most of the ballot boxes were said have been stuffed, only for the Independent National Electoral Commission (INEC) to discover that either card readers were not used or the voters are not captured in its data and therefore had to cancel the results from many centres and declared the election inconclusive.
Malam Garba pointed out that it was unfortunate that as a leader who was severally involved in the election process, Kwankwaso is still contesting the result of an election conducted by statutory body and upheld by courts of law.
Ganduje lost 2019 election but Imposed by powerful forces -Kwankwaso
The commissioner said just some few days ago, Kwankwaso was all over the media cautioning his followers against unguarded utterances but ended up making incendiary rhetoric unbecoming a person of his caliber.
He said apparently, the interview Kwankwaso granted the national daily in which he attempted to rubbish the Ganduje administration has done him more harm than good which completely negates the spirit of a genuine peace and reconciliation he preached to his followers in the last few days to avoid derailing.
Malam Garba stated that Kwankwaso should have thank Ganduje for completing many of the projects he abandoned, saying that the people of Kano are paying the price for the unparallel policy of continuity that saw the completion of many projects in the last six years in the state.
These projects include  Aminu   Dantata Flyover, Yahaya Gusau Road and Prince Audu Underpass, Five kilometre roads in Dawakin Tofa, Ungogo, Warawa, Rano and Tofa local governments; Mahmoud Salga Road, Jaba-Rimin Kebe Road, Independent Power Project at Tiga and Challawa Dams, among many others.
On the issue of education, which Kwankwaso talk big, the commissioner further noted that as far as education is concern, the Ganduje administration has done a lot including payment of burden of over 15 billion backlog of scholarships to indigent students overseas left by the Kwankwaso administration.
He said so far, the sum of N3.5 billion has been paid for students in Sudan; N4.5 billion for Cyprus; N384 million for those in France, while it is in the process of paying students in Egypt and India.
Malam Garba said in addition to the implementation of the Free and Compulsory Basic and Secondary Education, the administration has been able to carry out massive infrastructure development in all its tertiary institutions and accreditation of many courses they offer.
The statement assured that despite the agitation for reconciliation that is ongoing among party leaders, the Ganduje administration would accordingly react to any attempt to rubbush the laudable achievements it has recorded and will not  be distracted from carrying on with the responsibility for which it was elected into office.
MALAM MUHAMMAD GARBA
Hon. Commissioner for Information, Kano