Defense Headquarters Declares 19 Terrorists Wanted.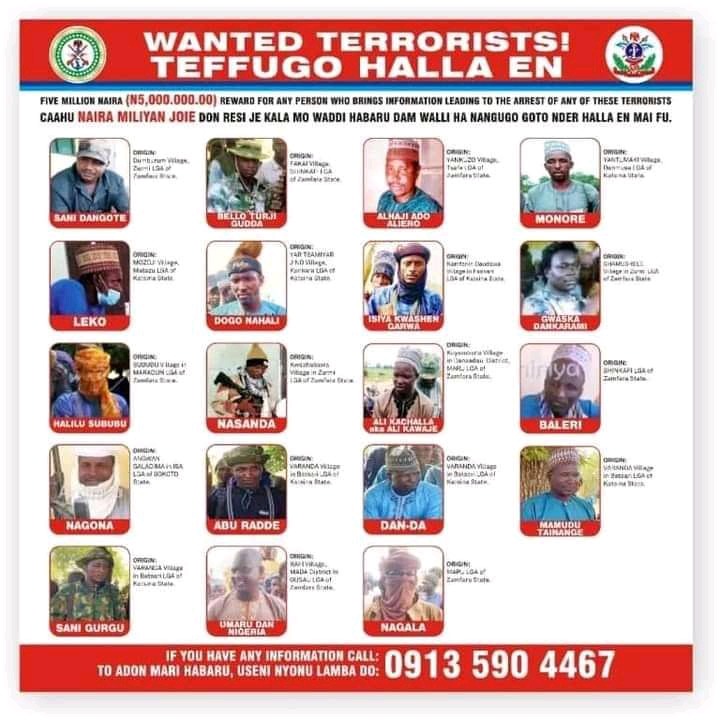 The Defence Headquarters on Monday, declared 19 terrorists wanted and placed N5 million bounty on each of them.
The details of the 19 terrorists are contained in a poster released by the Director, Defence Information, Maj.-Gen. Jimmy Akpor, on Monday in Abuja.
The information on the poster revealed that the N5 million cash reward is for anyone who could provide information that could lead to arrest of one wanted terrorist.
The wanted persons are notorious bandits/terrorists that have been terrorising Katsina, Sokoto and Zamfara States, it said.

Nigeria's Dangote Refinery Will Transform our Downstream Sector, Says Ghana Petroleum Authority
The wanted terrorists are as follows –
Sani Dangote who hails from Dumbarum Village in Zurmi Local Government Area (LGA) of Zamfara
Bello Turji Gudda from Fakai in Zamfara
Leko from Mozoj Village in Mutazu LGA of Katsina State
Dogo Nahali – Yar Tsamiyar Village in Kankara LGA of Katsina State
Halilu Sububu from Sububu Village in Maradun LGA of Zamfara
Nagona – from Angwan Galadima in Isa LGA of Sokoto State
Nasanda from Kwashabawa Village in Zurmi LGA of Zamara
Isiya Kwashen Garwa from Kamfanin Daudawa Village of Faskari in Katsina State
Ali Kachalla, aka Ali Kawaje, from Kuyambara Village in Dansadau Maru of Zamfara
Abu Radde from Varanda Village in Batsari LGA of Katsina State
Dan-Da from Varanda Village in Batsari LGA of Katsina;
Sani Gurgu also from Varanda Village in Batsari LGA of Katsina
Umaru Dan Nigeria – from RAFI Village in Mada District of Gusau
Alhaji Ado Aliero from Yankuzo Village in Tsafe LGA of Zamfara
Monore from Yantumaki Village in Dan LGA, Katsina State
Gwaska Dankarami from Shamushele Village in Zuri LGA of Zamfara
Baleri – from Shinkafi LGA of Zamfara
Mamudu Tainange from Varanda Village in Batsari LGA of Katsina State
Nagala from Maru LGA of Zamfara.
DHQ urged anyone with any information on the wanted terrorists to call 09135904467. (NAN)
I Inherited Politics From Home-Kawu Sumaila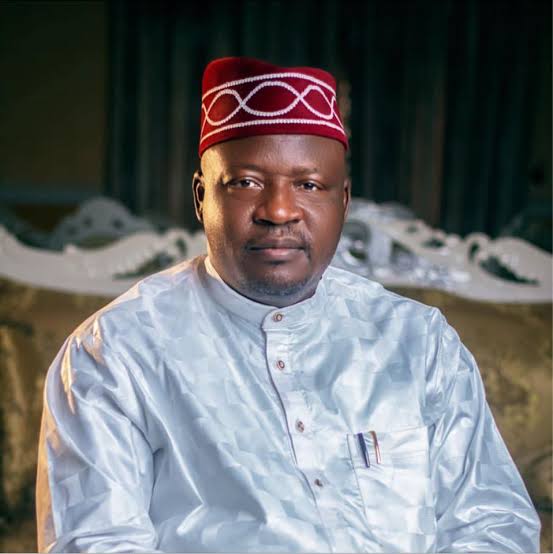 A former member of the House of representatives for Sumaila and Takai federal Constituency from Kano state Honourable Abdurrahman Kawu Sumaila and New Nigeria Peoples party senatorial candidate for Kano south says he inherited politics from home.
The NNPP senatorial candidate stated this during a rally organized by the party at Karaye town in Kano south senatorial district.
Honourable Abdurrahman Kawu Sumaila who was a former adviser to President Muhammad Buhari on national assembly matters says learning politics from home made him to play it with decorum and ensuring human dignity.
Abdurrahman Kawu Sumaila who is challenging the former Governor of Kano state in the aborted third republic Senator Kabiru Ibrahim Gaya for the Kano south senatorial district ticket said playing responsible politics is the best thing to do at this critical time in Nigeria's history.
According to Honourable Abdurrahman Kawu Sumaila its not proper for the state APC chairman to be making utterances that is meant to overheat the polity .
Hajiya Basira Dantata, Governments, Genuine Capitalists and the Poor
"Whenever a politician makes inflammatory statement,those statement is meant to dent the image of where he comes from."
Honourable Sumaila said during the last Kano Emirate fracas when Governor Ganduje split Kano Emirates ,he and some prominent politicians in Kano made case for the appointment of Abdullahi Abbas as Emir but he was dismissed by Governor Ganduje noting that the Governor listed some incompetent qualities associated with the state APC chairman.
The rally was attended by New Nigeria People's Party stalwarts and teeming supporters from Kano south senatorial district.

BREAKING: CBN Extends Old Naira Use Deadline Till February 10 President Muhammadu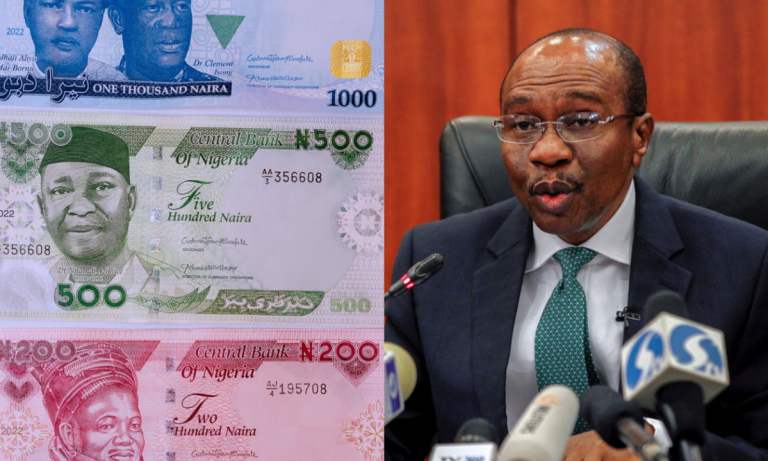 President Muhammadu Buhari approves a 10–day extension of dateline for the cash swap programme from January 31st to February 10
Details later….

Government Will Eliminate Squeeze ,Chaos In Currency Swap-Buhari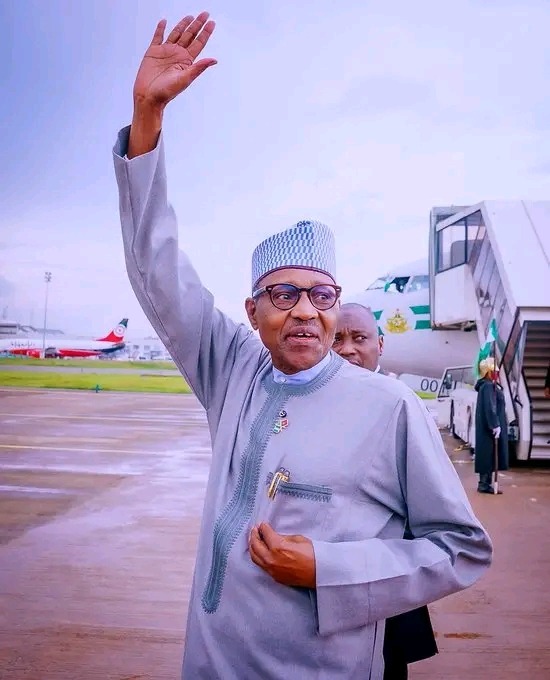 President Muhammadu Buhari, Saturday assured that government will ensure that citizens are unharmed in their businesses and no disruption is caused to the entire supply chain arising from the currency swap due to end shortly.
Reacting to reports of long queues of people waiting for hours for their turn to deposit old notes and get new ones, triggering public anger and opposition's criticism, President Buhari reiterated that the currency changes were aimed at people hoarding illicit funds and not the common man, and that it had become necessary to prevent counterfeits, corruption, and terrorist funding. This, he assured, will stabilize and strengthen the economy.
While taking note that the poorest section of society is facing hardship as they often keep hard cash at home for various expenses, President Buhari gave strong assurances that the government will not leave them to their own fate.
He reiterated that a number of initiatives by the Central Bank and all commercial banks are underway to speed up distribution of the new notes and do all that is necessary to forestall cash squeeze and chaos.
Garba Shehu
Senior Special Assistant to the President
(Media & Publicity)
January 28, 2023