Atiku's De-Federalisation Agenda, Nigerian University, and New Rays of Disunity
Dr Aliyu Salisu Barau
1. Yesterday, in response to Atiku Abubakar's purported statement on de-federalisation of the Nigerian higher education sector if he becomes the next president, one of my friends said: Atiku yara sa kuri'ummu (meaning Atiku has lost our votes). Seeing the backlash, his media guards deconstructed the well quoted statement saying, it was reported out of context and malice. However, the language on the intention to transfer federal tertiary institutions to states is very clear.
2. Let me share the story of my favourite scholar late Ali Mazrui and his encounter with two state governors in the United States. By American racial and class standards, Mazrui as a Muslim, Black, and African is just another other. Yet, Governor Mario Cuomo of New York and his counterpart Governor James Blanchard of Michigan made personal phone calls to convince Ali Mazrui to teach in their states. In fact, the two were almost at a duel point over Ali Mazrui. That's where state governors know the value of scholars and scholarship. Mazrui decided to be with Binghamton University in NY. Some of the best universities in the US are state-owned e.g. Arizona State University.
Exclusive:Fresh Crisis Looms As Minister Submit Ten Year Football Master Plan Proposal To President Buhari
3. Atiku Abubakar's unhidden tongue slip and spit of incorrectness shows him as a rush-character and potentially a big threat to national unity and integration. The first mistake in the purported statement was that regional universities and higher education institutions were transferred to states after the collapse of the first republic in 1966. I never know the history of Ahmadu Bello University Zaria, University of Ibadan, Obafemi Awolowo University, University of Nigeria Nsukka, or University of Lagos owned and controlled by Northwestern State, Western State, Lagos State or South Eastern State respectively. These universities to the best of my knowledge were retained by the federal government since then and this has continued to date. The same applies to their satellite campuses such as Abdullahi Bayero College (now Bayero University Kano), Advanced Teachers College (now Federal College of Education, Kano), University of Jos, University of Maiduguri and the rest.
4. Is Atiku Abubakar really interested in de-federalising the higher education institutions after winning the 2023 election or selling them to cronies? At the moment, do we have any state governor with indicator-based agenda and vision for education and development? Does Atiku really understand the implications of his statement on national unity and security? One of my trades is on seeing and planning for the future. Hence, I want to simulate what will happen to my university BUK in the event of actualization of Atiku's de-federalisation agenda.
5. I foresee that when Kano State Governor becomes a new visitor to BUK he will appoint his men into its governing council. The actors in council will one day argue that UK universities such as Cambridge, and Oxford have fragmented campuses. So, BUK's campus should be decoupled and in that way they will propose to proportion its land to businesses as in the UK. Then, its vast and highly priced landmass will be a kind of Eldorado for the Kano land sharks. Then, youth NEETs (not in education, employment or training) will react simply by kidnapping the new owners or blasting the structures out of frustration with inequalities.
6. Sadly, the de-federalisation agenda will cause serious national disunity. I will eventually miss many of my colleagues at departmental and faculty levels. Many will be harassed, frustrated and intimidated by the state ministry of education or their boys in BUK. Some will be told, 'look, England is not Scotland' so better leave for your state. These are possibilities considering the fabric of our social and ethnic chasms.
7. If truly Atiku wants to try his proposed model, why not try with one university, college or polytechnic and allow the model to work for at least ten years to see how it works.
8. On this and more, I think Atiku needs to go tortoise way rather than hare's.
Dr Aliyu Barau writes from Kano
Kashim Shettima And His Eloquent Disposition
By: AbdurRaheem Sa'ad Dembo
The Vice president of the Federal Republic of Nigeria, Senator Kashim Shettima is one man with many explicit quotes. I sometimes referred to him as Barack Obama of Nigeria as I watched him on TV during campaigns and other engagements. He speaks with ease all the time.
The former Governor of Borno state is not an accidental leader as he has shown in all capacity that he is up to the task. As a Governor he did not make noise but silently achieving progress in Borno state. He was accused of sponsoring Boko Haram but that did not deter him, because he believed it was all politically motivated.
If His Excellency had not been picked as the Vice presidential candidate of All Progressive Congress by President Bola Ahmed Tinubu I might not have seen the monumental intelligence embedded in the Kanuri man. In fact, this realisation occurred not to only me but also majority of Nigerians who are members or supporters of All Progressive Congress, APC.
More importantly, the senator-elect for Kwara Central senatorial district and Turaki of Ilorin, Mallam Saliu Mustapha greeted Senator Kashim Shettima on the occasion of his birthday on 2nd September,2022 and described him as follows:"Senator Kashim Shettima requires no introduction nationally. Our quintessential incoming Vice President, regarded as the northern star-boy, has won admiration for his vibrant personality and force of credibility.
…He is a refined intellectual, a relentless achiever, and an eloquent speaker.
Given his understanding of economic and national issues, as well as his educational background as an agricultural economist, he is the ideal copilot for guiding, managing, and safeguarding our national heritage."
Interestingly, long before his ascension to Vice Presidency I had been one of his consistent followers on Facebook, where he regularly shares supremacy jokes between Fulani and Kanuri. Such jokes have been in existence from the time immemorial but Kashim Shettima's style made it to have more flavour and originality. In fact, I usually made comments on his post that the Fulanis are the masters of Kanuris.
In Ilorin such jokes exist too. Our Ilorin Kannikes are from Borno state and they are Ilorin Kanuris. We crack the jokes whenever we come across each other. Similarly, during my youth service at Yobe Broadcasting Corporation (YBC), Damaturu, Yobe State, the jokes always surfaced among the Kanuris and Fulanis who are staff of the corporation, most especially in the news room.
That is by the way. Having watched him closely on TV I realised that Kashim Shettima is one of the great men that usually show gratitude for whoever might have helped them in one way or the other in the past. Indeed, gratitude is one of the attributes of great men. In recent time he has always credibly referred to Jim Ovia as his mentor in banking industry. So to me, President Bola Ahmed Tinubu has made a right choice for picking him as Vice President.
Our President can go to bed without any suspicion with the kind of Vice President he has chosen. One should not be surprised why President Tinubu picked him, because Asiwaju is a political tactician and strategist. In fact, former President Muhammadu Buhari at some point referred to Tinubu as a political strategist.
One does not need anyone to tutor him about Shettima's eloquence, because he reads a lot, I surmise. In fact, recently, I saw a picture he took in his library, which is suggestive of the recipe for his intellectual acumen. When you read, you widen your horizon and hence will be equipped with the wherewithal to making inputs in every situation, be it verbal, technical, sociopolitical, cultural or economic.
According to a German Poet, Heinrich Heine "True eloquence consists in saying all that is necessary,and nothing but what is necessary" Kashim Shettima knows when, where and how to talk,in view of this, let me share some of his quotes
that captivated me like a new
beautiful bride: "Osinbajo is a good and nice man, but nice men don't make good leaders. Nice men should be selling ice cream".
Although this did not go unchallenged by the former Vice President Yemi Osinbajo in his light response that Shettima was a shareholder in Yemi Osinbajo's ice cream company, Shettima's words and the timing were suggestive of his intellectual versatility; politically in this wise.
In August 2022 when Shettima represented APC flag bearer Asiwaju Bola Ahmed Tinubu during the 62nd NBA conference at Eko hotel in Lagos, here is what he said to subdue the hostile crowd: "When I was told that it was a hostile crowd-I am a banker, trained by one of the best bankers in the world. I am Jim Ovia boy- I deliberately wore sneakers to snub at them".
After this event some young Nigerians and public commentators from the opposition were mocking him, but like his usual way Shettima was unperturbed.
"Before 1999, Lagos State has only one Ambulance and Lagos was earning 700 million naira every month but Tinubu increased it to 5 billion naira". Shettima was trying to describe Asiwaju there as a man of vision and with him as president, Nigeria will achieve steady progress.
"Dangote Refinery is a game-changer for the Nigerian economy and it will show that Africa is not only known for crisis". He said this during the commissioning of Dangote refinery by former President Muhammadu Buhari in Lagos.
"Politics is about perception. As we begin the formation of a new administration, I deliberately picked an Igbo man, a Catholic, to be my Chief Security Officer," he stated. "For the purpose of inclusivity and togetherness, again I deliberately picked a Northern Christian to be my ADC. So the so-called founder of Boko Haram is going to be protected by a Christian. He asserted this during a lecture in Abuja that will culminate the swearing-in of President Bola Ahmed Tinubu.In the same event he referred to himself as a child of necessity.
Shettima's voice in support of subsidy removal is another aspect of his coherent disposition. He urged the Governors to support the decision of Mr President on subsidy removal because the oil cabals are dangerous. In his words "The oil scam cabal is a very very powerful cabal that are dangerously loaded and they will go out of their way to undermine this great initiative by Mr President. I will urge our colleagues, our Governors to rally round the president and see to it that will call off the plugs of all the machinations that would be unleashed on the polity in the coming weeks. Some will certainly resist this decision but even now oil is going for 740 per litre in Togo, Cameroon has to closed down their refineries because of the cheap oil coming in from Nigeria.There is a need for us to rally round this beautiful decision by Mr President because it is for the growth of our economy. Our economy is in a very very bad shape, we either get rid of oil subsidy or oil subsidy gets rid of the Nigerian Nation.That is how bad things are…"
Earlier on 30th May, 2023 at his office, he said: "The president has already made a pronouncement yesterday on the issue of fuel subsidy.The truth of the matter is, we either get rid of fuel subsidy or fuel subsidy gets rid of the Nigerian Nation. In 2022 we spent 10 billion dollars subsidizing the ostentatious life styles of upper cross of the society, because you and I benefit 90 percent from fuel subsidy, the poor 40 percent benefit little from fuel subsidy"
Senator Kashim Shettima, the Vice President of the Federal Republic of Nigeria also described the fuel subsidy and multiple exchange rate as two big elephants.
Finally, the Kanuri man has exhibited the necessary prerequisites for identifying a conscious leader through his consistent disposition during campaigns . Indeed, he would be a great asset to President Bola Ahmed Tinubu's administration.
May Nigeria succeed under President Bola Ahmed Tinubu and Kashim Shettima.
4 Big Mistakes of the Buhari Administration Tinubu Should Avoid-Getso 
By Umma Getso
Leadership carries with it the weight of responsibility, shaping the trajectory of a nation and its people. As political figures emerge on the horizon, it becomes imperative to reflect upon the successes and failures of past administrations, seeking to build upon the former while avoiding the latter. In Nigeria, the presidency of Muhammadu Buhari marked a significant chapter in the country's history, characterized by moments of progress and setbacks.
As President Asiwaju Bola Tinubu (BAT) assumed the mantle of leadership, it is vital to examine and learn from the four major mistakes made by the Buhari administration. By recognizing these pitfalls and charting a different course, Tinubu can steer the nation towards a future that embraces sound governance, effective policies, and sustainable development.
Here are the 4 big mistakes of the Buhari Administration that Tinubu should avoid.
1) Late Inauguration of Cabinet Members
President Muhammadu Buhari was sworn in as the president of Nigeria on May 29, 2015. However, he did not appoint his cabinet members until November 16, 2015. This six-month gap was widely criticized as a sign of indecisiveness and a lack of planning. This essay will argue that Buhari's late inauguration of cabinet was a major mistake that damaged his reputation and hindered his governance.
One possible reason for Buhari's delay in appointing his cabinet was that he wanted to find the best people for the job. He claimed that he was looking for people with integrity and competence who could help him fight corruption and insecurity. However, this reason did not convince many Nigerians who expected him to act faster and more decisively. According to a survey by NOI Polls, 67% of Nigerians were dissatisfied with Buhari's delay in appointing his cabinet.
Another possible reason for Buhari's delay in appointing his cabinet was that he was trying to balance the interests of his party, the All Progressives Congress (APC). The APC was a coalition of different political parties and factions that came together to defeat the incumbent president, Goodluck Jonathan. Buhari had to deal with the demands and expectations of his party members who wanted to be rewarded with ministerial positions. However, this reason also did not justify the delay, as it showed that Buhari was more concerned with appeasing his party than serving the nation.
The late inauguration of Buhari's cabinet had a negative impact on his reputation and governance. It created a perception that Buhari was not prepared to lead the country. It also made it harder for Buhari to implement his policies and programs. For example, Buhari's flagship policy, the Economic Recovery and Growth Plan (ERGP), was launched in April 2017, almost two years after he took office. The late inauguration of Buhari's cabinet also affected his relations with foreign leaders and partners. For example, Buhari could not attend the United Nations General Assembly in September 2015, because he did not have a foreign minister.
In conclusion, Buhari's late inauguration of cabinet was a serious mistake that undermined his credibility and effectiveness. It showed that Buhari was not ready to lead the country. It also delayed the implementation of his policies and programs.
This is a big mistake President Bola Ahmed Tinubu must avoid.
2) Ineffective Monitoring of Presidential Directives
President Muhammadu Buhari has been widely criticized for his failure to monitor and enforce his directives on security matters. One of the most glaring examples of this failure was the case of the Inspector General of Police (IGP), Ibrahim Idris, who disobeyed Buhari's order to relocate to Benue state and remain there until the herdsmen-farmers crisis was resolved.
Buhari gave the order to the IGP on January 9, 2018, after he met with Benue leaders over the killing of over 70 people by suspected herdsmen on New Year's Day. Buhari said he had instructed the IGP to "get into (Benue) and take care" of the situation. However, it was later revealed that the IGP only spent one day in Benue and then moved to Nasarawa state, where he reportedly attended a birthday party. The IGP also failed to visit the affected communities or meet with the governor and other stakeholders in Benue.
What were the implications of Buhari's failure to monitor his directive to the IGP? There were several negative consequences of this failure. One was that it exposed Buhari's weakness and incompetence as a leader and commander-in-chief. It showed that he was not in charge of his administration and that he could not enforce his authority or ensure compliance with his orders. It also showed that he was not in touch with the reality and needs of the people.
Another consequence was that it worsened the security situation and the humanitarian crisis in Benue. It emboldened the herdsmen to continue their attacks and killings, as they perceived that the government was not serious or sincere about protecting the lives and properties of the people. It also increased the distrust and resentment of the people towards the government and the police, as they felt abandoned and betrayed by their leaders.
In conclusion, Buhari's failure to monitor his directive to the IGP was a serious blunder that had grave implications for his leadership and governance.
If President BAT must outdo PMB, he should establish robust monitoring frameworks to track progress, identify bottlenecks, and make necessary adjustments. This will enhance accountability, transparency, and overall governance effectiveness, ensuring that policies translate into tangible results for the Nigerian population.
3) Lopsided Appointment
One of the major criticisms that President Muhammadu Buhari faced during his first six years in office was his alleged lopsided appointment of key officials in his administration. Many Nigerians accused him of violating the federal character principle and favouring his northern region and his party members over other parts of the country and other qualified candidates.
According to a report by Premium Times, as of August 2015, Buhari had appointed 29 key officials, out of which 75 per cent were from the north and 43 per cent were from his North West geopolitical zone. The South East had no appointee at all. The report also showed that Buhari had not appointed any female official, unlike his predecessor, Goodluck Jonathan, who had women in all major segments of government.
Why did Buhari make such lopsided appointments? One possible reason is that Buhari was influenced by his personal preferences and biases. He may have chosen people he knew and trusted, or people who shared his ethnic, religious, or political affiliation. He may have also been loyal to those who supported him during his election campaigns or who contributed to his party's success.
True or false, whatever the reason was; it is pertinent to remember that public appointments should not be rewards for personal favour.
In the case of PMB, the alleged lopsided appointments created a perception that he was biased and partial. It also increased the distrust and resentment of some regions and groups towards the government and the security agencies, as they felt marginalized and oppressed.
As Nigeria enters a new era under President Asiwaju Bola Ahmed Tinubu, he should learn from Buhari's mistake and avoid making lopsided appointments in his administration.
One of the blessings of a large population is the abundance of human resources. Every region and every state has competent people to fill in different areas. He should prioritize meritocracy, selecting individuals who are capable, experienced, and committed to serving the nation's interests. He should appoint known and practising professionals to the appropriate ministries and not appoint an accountant to head the education ministry. By appointing qualified professionals, Tinubu can build a team capable of delivering tangible results and gaining the trust of the Nigerian people.
4) Poor Administration and Management of Changes in Policies
One of the most significant mistakes of the Buhari administration has been its poor administration and management of major changes in economic policies.
Although these policies may not be bad in themselves, the government's failure to provide a cushion to interface between the existing and new policies presented a lot of challenges for the people.
The administration has been unable to effectively implement its policies, and it has often made changes without considering the impact on the people.
Border Closure
This has been evident in the administration's handling of key economic policies, such as the closing of the border with the Benin Republic and the redesign of the naira notes.
The border closure, which was implemented in August 2019, was intended to curb smuggling and boost local production. However, it has had a devastating impact on the economy, particularly on the informal sector, which employs the majority of Nigerians. The closure has led to a shortage of goods, increased prices, and job losses. It has also disrupted cross-border trade, which is an important source of income for many Nigerians.
The government has defended the border closure, arguing that it is necessary to protect the country's economy. However, critics argue that the policy has been poorly implemented and that it has caused more harm than good.
They point out that the government did not provide any support to businesses or workers who were affected by the closure. This forced many people to close their businesses or move to other parts of the country in search of work.
The border closure is just one example of the Buhari administration's poor administration and management of changes in key policies.
Fuel Subsidy
In 2016, the government implemented a fuel subsidy removal, which led to a sharp increase in the price of petrol. This policy also had a devastating impact on the economy, particularly on the poor.
The Buhari administration's failure to provide a cushion for Nigerians prior to the implementation of these policies has made it difficult for people to cope with the negative consequences of these policies. This has led to widespread discontent and has contributed to the rise of insecurity in the country.
Redesign of New Notes
The redesign of the naira notes is another example of the Buhari administration's poor change management and administration. The new notes were introduced in 2020, and they were intended to make it more difficult to counterfeit the naira, encourage the digital economy, curb criminal activities and encourage ease of doing business.
However, the new notes policy presented serious difficulty for businesses and the people. This led to the eventual redirection of the policy.
To ensure a successful tenure, the Tinubu administration must recognize the importance of effective policy implementation alongside the formulation of new policies. It should prioritize both short-term and long-term impacts, understanding that intermittent progress is key to achieving lasting change.
The BAT administration should adopt a mindful approach to policy implementation, considering the potential hardships that may arise and strive to minimize them. By striking a balance between policy objectives and the well-being of the people, the administration can pave the way for productive and transformative governance.
PMB Lands Softly On A Sofa Floor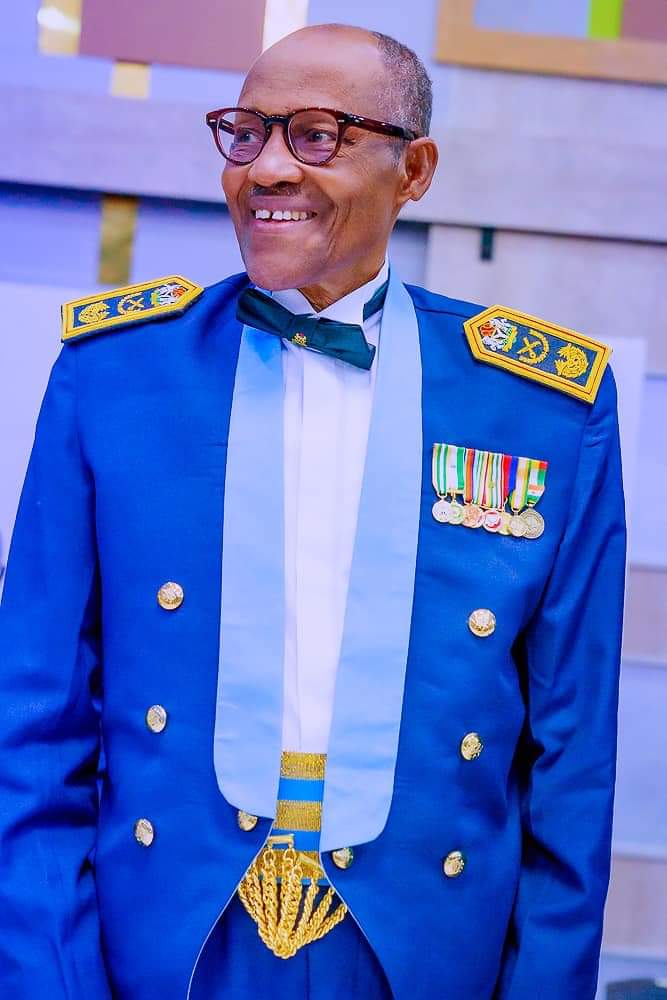 This has been a week of reflection, introspection, and rumination. It's the last full week of a journey that started eight years ago. And like Yoruba people say, if you can ponder, then you will wonder, and be filled with thanksgiving to God.
That was what Wednesday was dedicated to. Looking backwards, inwards, and forward, as the last Federal Executive Council meeting under President Muhammadu Buhari held. "This is the last that we shall dance together," Wole Soyinka wrote in his work, Kongi's Harvest.
Yes, dances do end, no matter how much you love to pirouette. You dance like butterfly and sting like a bee. It will end. You gyrate, whirl and spiral. Very good. It's a delightful part of life. But then, there's always the last dance. That's what Luther Vandross sang about in Dance With My Father:
Back when I was a child
Before life removed all the innocence
My father would lift me high
And dance with my mother and me then
Spin me around till I fell asleep
Then up the stairs he would carry me
And I knew for sure I was loved
If I could get another chance
Another walk, another dance with him
I'd play a song that would never ever end
How I'd love, love, love to dance with my father again.
For Vandross and his father, the dance ended at a time. As it's bound to be. Nothing lasts forever. Not the good. Not the bad. Not even life itself.
Reflections. That was what happened on Wednesday, as the Federal Executive Council meeting held for the last time under this administration. Such days had come for many governments in the past, and would also come in the future. It's inexorable, as sure as night follows the day.
Each Minister, and Minister of State, was given time to speak on times and seasons under the Buhari administration. Some had been there since 2015, some others came in 2019, and yet others in 2021, after a minor cabinet rejig.
It was appreciation, eulogy and tributes to the President all the way. Not fawning praise singing, but factual appraisal of opportunity given to serve the country, and to make a difference.
Do you know that Ministers rarely spend four years in position, not to talk of eight years? But a lot did under Buhari, because he's not a supercilious man, who just likes to sack for the kick he would get from it. Yes, some appointors love to play God over their appointees. They hire and fire at will, just because they have the powers. For some other leaders, it's job for the boys. You serve for a year or two, and you are dropped, so that the largesse can go round. Not Buhari. Unless you fall short of the mark, you are caught with your hand in the cookie jar, or commit some other grave malfeasance, then you can be sure of a guaranteed time. You have been called to serve, and not to be ridiculed and humiliated out of office.
The Ministers went down the memory lane. And it's been quite a journey, said the Minister of Justice/Attorney-General of the Federation, Abubakar Malami, SAN. He's the longest serving in that position in history of the country. Just a few months short of eight years.
His summation: "With all sense of responsibility, we've left the country better than we met it."
Senator Hadi Sirika was at first Minister of State, Transportation, and later full Minister in charge of Aviation. He said the English language was insufficient for him to say thank you to the President for the honor done him, allowing him to serve.
And he spoke about the non-interfering, non-intrusive style of the principal. He recalled when he was going to close the runway of the Abuja airport for many weeks, a momentous decision. President Buhari just listened to him patiently, and said: "Go and plan very well." The job got done.
Professor Ali Isa Pantami, Minister of Communications and Digital Economy, told the President: "You are the best. We've learnt a lot from you, and we will forever be grateful."
He said he came from a poor and deprived background, and he could never have sat in the hallowed Council Chamber, if not for someone like President Buhari.
"It's the last FEC meeting, but we will continue to meet with you through our prayers," he submitted.
Mohammed Bello, Minister of the Federal Capital Territory, said he was picked out of the blues, a testimony typical of most of his colleagues. And he is today the longest serving Minister in his portfolio. He also said the English language was inadequate to express his appreciation. So he borrowed an Hausa word the President loves to use: Madalla, meaning 'well done, thank you, excellent.'
Dr Ramatu Aliyu, Minister of State, FCT, wondered how a minority from Kogi State, a woman, could have entered the Federal Cabinet, if not for a President who believes in equitable distribution of power. She called Buhari 'Father of Nigeria's Infrastructure Renaissance.' True.
Mrs Zainab Shamsuna Ahmed, Minister of Finance, Budget and National Planning, said what she and her colleagues had gone through was "PMB School of Governance," saying the President never called her once to see anybody, or give anybody anything.
Minister of Foreign Affairs, Geoffrey Onyeama, glorified God for the restored and renewed health of the President, after the severe health challenge of 2017, which saw him in and out of hospital for about eight months.
"Your sterling leadership qualities are admired all over Africa, and, indeed, the world," he declared.
All the Ministers spoke, but for want of space, let us adopt this highly applauded one from Dr Olorunnimbe Mamora, in charge of Science, Technology and Innovation:
"My intervention will commence on a note of gratitude to God by whose grace we are all alive and here to witness this glorious day. Next, is to thank you, Mr President, because our appointment as members of FEC is through your presidential benevolence. I am particularly grateful for being a member of this legacy team of your administration. You had earlier appointed me as MD, NIWA, and Minister of State for Health. A day like this is a day of thanksgiving, it is a day of reminiscences and it is a day of celebration of God's faithfulness.
"Before proceeding further, please permit me to share a true life story on a lighter note. When I was Speaker in the Lagos State House of Assembly in 1999, as the presiding officer, I could sit for 5 – 6 hours without getting up from my seat. I was much younger then, but I cannot do that now that I am 70. After one of such sessions one day, some of my colleagues in the chambers walked to my seat at the platform searching underneath my table and I asked what they were looking for. They told me they came to find out whether I had a urinary catheter connected to a container under my table to explain my ability to sit for such long hours without the urge to go and ease myself.
"Mr Chairman Sir, I wonder how you are able to do the same at over 80! It's simply incredible and can only be explained by your Spartan discipline. This Spartan discipline is one of the qualities that define you as a leader. I have observed you from a privileged position as one of your foot soldiers in the capacity of Deputy Director General of your Presidential Campaign both in 2015 and 2019. You are a man of calm disposition under any circumstance.
"In 2015 while wooing delegates for the presidential primaries, l sat with you in the car traversing several States from Kano to Bauchi, Kebbi, Zamfara and finally to Sokoto. The journey from Zamfara to Sokoto was in the night and the convoy was moving at neck breaking speed, so much that my heart was virtually in my mouth and skipping beats! Here was l sitting next to a General. I was so scared. Lo and behold, Oga was calm all through the journey without uttering a word on the driver's speed! We arrived in Sokoto at about 12.30am!
"Mr President is a man of compassion and great humility. We had just finished the Presidential nomination convention at Teslim Balogun stadium in Lagos lasting from Wednesday night to early hours of Friday, about 2am. After delivering his acceptance speech, he left the podium and I thought Mr President had gone back to the hotel where we both came from. How wrong I was! He was sitting quietly in the car patiently waiting for me.
"When word came to me through Sarki Abba that Oga was waiting for me, I quickly rushed to join him in the car with a load of apology. He said "Distinguished Mamora, how could l have left you behind, when we rode in here together?" I felt greatly touched.
"Mr President has an uncommon sense of humor. At one of our virtual FEC meetings during COVID, following the presentation of a memo by the Aviation Minister, the Minister of Police Affairs was called to make his comment, having indicated to speak, but he was not available after repeated calls; Mr President then retorted, maybe he has gone for "Road block"!
"At another FEC meeting, while debating a memo on augmentation of the contract sum for the reconstruction of a particular road, the issue arose as to how Nigeria can maximise the use of local resources for road construction. Following an energetic submission by the Interior Minister, Mr President set up a Cabinet Committee to look into the matter. In his characteristic passion for what he believes in, the Interior Minister sought Mr President's permission to be co-opted into the 3-member committee to which Mr President retorted, "Hon Minister of Interior, we do not need a passport for road construction!"
"Mr President, you have carefully put a great team together to assist you in the prosecution of your agenda for Nigeria, starting with Mr Vice President who has not only been truly Vice Presidential in words and deeds, but has combined professorial erudition with pastoral zeal. He heads the team of legal minds in FEC, whose contributions oftentimes illuminate and enrich debates at our meetings…
"Mr President and distinguished council members, I recall the comic relief always introduced to debate by the duo of Hon Minister of Works and Housing, and Hon Minister of Labour. Following the presentation of a memo on road construction and rehabilitation one day, by the Minister of Works and Housing, the Labour Minister said the Minister of Works has begged and lobbied him to sheath his sword and not attack his memo. He further said the Works Minister is an Ikate boy who migrated to Surulere. In his response, the Works Minister said the incessant strikes by the labour unions was caused by the Labour Minister who moved from Okija to Victoria Island in Lagos thereby giving the false impression that he has a lot of money. Hence Labour has been on strike with a view to benefiting from the Labour Minister's wealth.
"The banters they throw at each other bring a lot of comic relief to the council chambers and they can be likened to "Tom and Jerry" of children's comedy fame.
"Distinguished Council members, we have jointly served our country to the best of our abilities, hence we raise our hands in joyful adoration and shout "Thus far the Lord has helped us"! To God be the glory!
"Mr President, l join my colleagues and millions of your well wishers to congratulate you and Mr Vice President for the giant strides made under your eight-year presidency, your achievements, in the various sectors, already documented, will remain indelible in the annals of our nation's history. You have finished well and strong. Yours has been a life of struggle but full of grace. Now is the time to take a bow and enjoy your well deserved rest.
Congratulations, Mr President and best wishes."
Kizz Daniel and Tekno, in the popular song, Buga, said: "When I land I land softly on a sofa floor…" That is what is happening to President Buhari. Despite evil speaking, evil thoughts, false prophecies, lies, de-marketing from some quarters, the President is landing well, finishing strong. To Daura for a well deserved rest after serving the country for many decades. Awesome God.
And today is also our last dance on this platform, From the Inside, which has featured for many years, without failing for a single week. God be praised. And by His grace, we meet on another platform in the not too distant future.
So long. Au revoire.
*Adesina is Special Adviser to President Buhari on Media and Publicity