SPE, NCDMB Hail Dangote Petroleum Refinery's World-Class Technology Application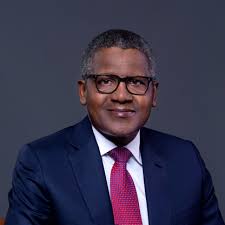 The Society of Petroleum Engineers (SPE) and the Nigerian Content Development and Monitoring Board (NCDMB) have applauded Dangote Petroleum Refinery for its application of world-class technology in the construction of the 650,000 barrels per day refinery project.
The two associations, which leaders were on a tour of the petroleum refinery project recently, expressed the belief that the refining facility is capable of redefining Nigeria's domestic fuels production.
They also said that completion of the gigantic project will secure the future of young engineers in Nigeria and put them at par with their counterparts in the global oil and gas industry.

KASSOSA President Urges Members To Inculcate The Spirit of Ramadan
Speaking after the tour of the refinery and petrochemical projects, National Chairman of SPE, Prof. Olalekan Olafuyi, disclosed that the visit was necessitated by the need for members to see the reality of the massive project.
According to him, "much has been heard and written regarding the refinery. Coming here has given us the opportunity to see the level of construction works, application of world class technology and massive equipment which are new to the Nigerian downstream oil and gas industry.
"We have heard before about Dangote Petroleum Refinery and have also seen that the project is for real. After touring the refinery, we are amazed by the level of work that has already been done and we are eagerly waiting for its completion. We are happy with what we have seen. Dangote is doing a great job with the construction of a world class petroleum refinery. It is remarkable that a Nigerian company is building a world-class project."
Speaking also at the event, Director of planning Research & Statistics, Nigerian Content Development & Monitoring Board, Patrick Obah stated that the Dangote refinery which is Africa's biggest oil refinery and the world's largest single-train facility is contributing to the implementation of the Nigerian Content Policy through its engagement of Nigerian engineers.
Obah said: "It is awesome that this kind of project is happening here in Nigeria.  For the first time I saw a tank that could hold 120 million liters of liquid at the Dangote Petroleum Refinery plant. We are indeed happy that we have this kind of facility here in Nigeria. The visit is very enriching for members of the Society of Petroleum Engineers and the Nigerian Content Board.
"There is no doubt that the project gives inspiration to all visitors who come on a tour of the refinery. The refinery plant gives a lot of hope to Nigerians.  It is important for us to grow local capacity that will be able to fit into the energy demand of tomorrow."
He therefore commended the Dangote Group for investing massively into the country's oil and gas industry.
Managing Director. *Dangote Industries Free Zone Development Company (DIFZDC), Yinka Akande said that Dangote Refinery has continued to provide employment for Nigerians.
Akande said that Dangote will continue to promote the development of Nigerian Downstream oil and gas industry.
He thanked members of the two associations for coming to tour the massive Refinery project and Petrochemical projects.
Earlier while welcoming guests to the site, the AGM, Learning & Development & Stakeholder Relationship Management Dangote Projects, Dr. Ebele Oputa, stated that the company is dedicated to the training of young Nigerian engineers in Refinery Operations oversea and within the country.
She told the visitors that some young engineers employed by Dangote Petroleum Refinery are  currently pursuing various doctorate and masters' degrees in some reputable universities in Nigeria, noting: "We target to train over 900 young graduates who are expected to operate the Refinery at completion. Another 10 Mechanical Engineers have also been trained in the General Electric University in Italy. 50 Process Engineers have received training from Honeywell/UOP for six months; 50 Management Trainees have completed their training in the Dangote business.
Currently, six graduates have been selected across the six geopolitical zones in conjunction with NCDMB and taking the MSc and/or PhD at Ahmadu Bello University, Zaria for Research & Development in Zeolites ZM5in", she add
Coca-cola Donates Bio Medical Equipments Worth Over 720 Thousand Dollars To AKTH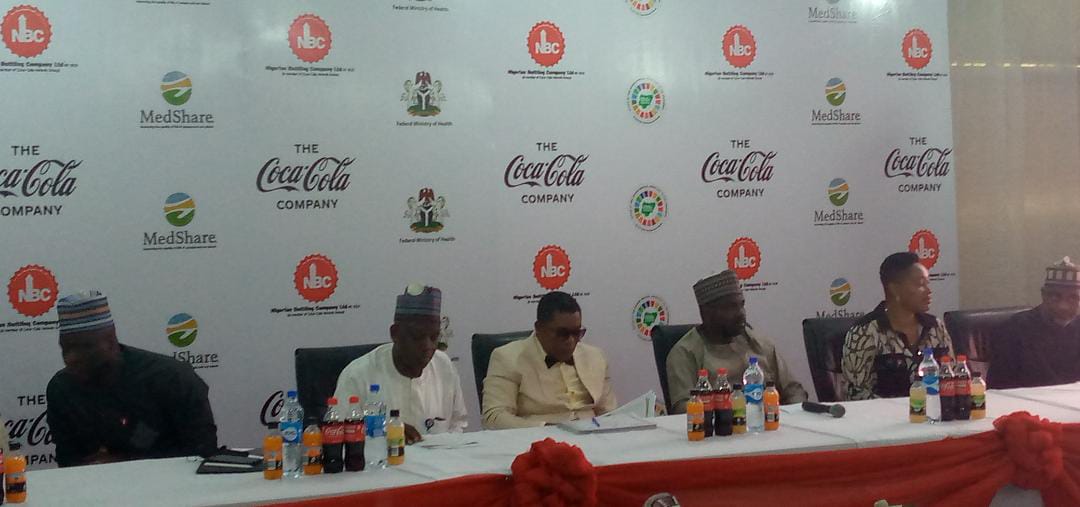 The Coca Cola company and its partner, Medshare, in collaboration with Federal Government, on Friday donated equipment worth N3 billion to Aminu Kano Teaching Hospital, Kano under the Safe Birth Initiative (SBI).
The equipment and supplies were formally unveiled and handed over at a special event held at the Hospital in Kano.
At the handover ceremony, the Managing Director of Coca-Cola Nigeria Limited, Alfred Olajide, said the initiative was aimed at improving maternal outcomes and reducing child mortality incidents and to support government initiative in reducing child and maternal mortality.
"The Safe Birth Initiative is a part of the company's wellbeing Programme, to support the efforts of the government in reducing the alarming numbers of women and newborns who die from birth-related issues," he explained.
Train Attack :Female Victim Led Lone Protest 
Olajide restated Coca Cola's commitment to upholding the health and well-being of women as pillars of the society.
Nwamaka Onyemelukwe, Director Public Affairs and Sustainability, said that through the SBI, the company wanted to support the untiring efforts of hard-working doctors, midwives and nurses.
She said the health workers battled against great odds in public hospitals to manage life-threatening complications affecting mothers and the newborn.
"The issue of maternal mortality is very important to us. Globally, Coca-Cola has a commitment to women whom we consider pillars of the society and also pillars of our business in Africa, where they have always played a dominant role in our vast distribution and retail network," she said.
She said the equipment donated included anaesthetic machines, baby Incubators, ICU beds, Ultrasound and Auto Clev, among others.
Onyemelukwe added that company, with it's partner had trained over 20,000 women and youths across the state on series of transformative skills and knowledge programmes.
The company also presented certificates to biomedical engineers trained by the company in collaboration with Medshare International USA.
The biomedical Engineers trained by a senior Biomedical Engineer Ben Armstrong are 46 in number who will man the Biomedical Equipments.
Prof. Auwal Gajida, the Chairman Medical Advisory Council of the hospital, who pledged judicious use of the items, commended the company for the gesture.
He said that the gesture would go a long way in improving maternal outcomes and reducing child mortality incidents.
"I commend and thank the management of Coca-Cola Nigeria Limited for these very wonderful initiative aimed at strengthening our capacity to address the issue of maternal and newborn mortality in Nigeria.
"We are here today, receiving loads of medical equipment worth $720,000," Gajida added.
Alhaji Ado Kurawa, District Head of Tarauni who represented the Emir of Kano, commended the companies for their efforts in reducing child mortality incidents.
He urged other companies and corporate organizations to emulate coca-cola

Power Outage :In 3 Month 100 Industries Shut Down In Kano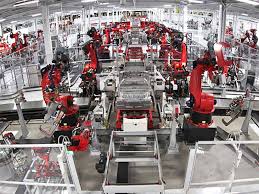 About one hundred industries have been shut down in Kano due to power outage in the past three month in Kano.
Kano is the industrial hub of Northern Nigeria since and before independence.
In an exclusive interview with President manufacturers association of Nigeria Kano Jigawa jurisdiction Sani Hussein said the closure of about 100 industries in three months was due to lack of power and rising cost of diesel.
On Job loss he told our correspondent that about 2000 personnel have lost their jobs due to the closure.
He said only industries that are producing essential commodities are up to the task and even some of them are operating at half capacity.
He said those that stop operating are always at loss because with the power outage and high cost of diesel even if they produce due to poverty there is no purchasing power among the teeming populace.
Bauchi NUJ Frowns Molestation of Journalists by Security Personnel
Sani Hussein further urge the government to make gas cheaper and invest in its production so that the industries in the North can survive like their southern counterparts.

Train Attack :Female Victim Led Lone Protest 
By Abdullahi Alhassan, Kaduna.
A married woman who was among the recently released victims of the Kaduna Abuja train that spent over 70 days in captivity has commenced one -man protest with the aims of calling on government toward dedicating more commitment in releasing the rest of the 50 abducted passengers that are still in captivity at Nigeria Union of Journalists (N U J )Secretariat in Kaduna.
Bauchi NUJ Frowns Molestation of Journalists by Security Personnel
The woman (maimuna)real name withheld says her husband is still in captivity for over 89 days in kaduna forest with the terrorists.
She said, She was among the recently released 10 victims of the kaduna Abuja train in the state.
According to her, there is need for government to intensify efforts towards dialogue with the terrorists and find ways of releasing the remaining 50 passengers that are still in captivity.
Maimuna says there are still children and old women and other people that are still in their Captivity facing persecution, challenges which include ecological conditions, cold, rain, and other dangerous .
She then urged government and other stake holders to help release the rest of the abductees.